Vietnam must reduce logistic costs to strengthen competitive capacity as the country pushes for greater international economic integration, heard participants at the Vietnam Logistics Forum 2020 in Hanoi on Thursday.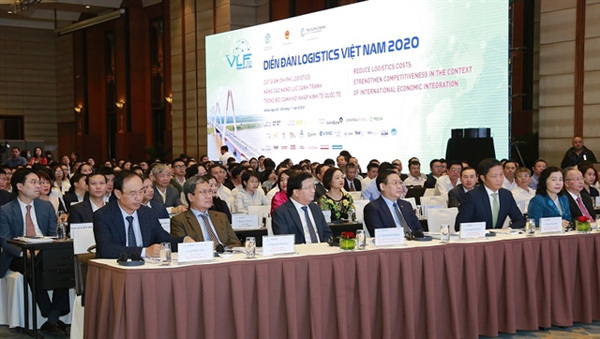 Participants the Vietnam Logistics Forum 2020 in Hanoi on Thursday. — VGP Photo
Speaking at the event, Deputy Prime Minister Trinh Dinh Dung said logistics play a key role in the national economy, connecting and promoting socio-economic development in cities and provinces as well as boosting the economy's competitive capacity. 
Đổi trò chơi"Therefore, better logistics services quality and lower logistics costs will help businesses bring down product costs and improve their ability to compete," he said. 
Đổi trò chơiAccording to Dung, Vietnam has set a goal for its logistics sector to grow by 15-20 per cent annually and account for 8-10 per cent of the country's GDP. Vietnam also has eyes on putting the sector among the top 50 in the World Bank's Logistics Performance Index.
Đổi trò chơiThe sector has maintained an annual growth rate of 12-14 per cent, amounting to 4-5 per cent of the country's GDP in recent years, said a report by the Vietnam Logistics Business Association. 
"To realise such a goal, central and local governmental agencies, as well as the local governments, must step up efforts to follow through with a national strategic plan to develop and improve competitive capacity for the logistics sector by 2025, which has been approved by the Prime Minister Office," he said. 
Dung urged central and local governmental bodies to work with business associations and logistics firms and listen to their concerns and feedback while pushing administrative reform efforts. 
Đổi trò chơiHe also asked the sector to invest in and adopt new management models and technologies, especially in information technology, while seeking partnerships with international logistics powerhouses.
Đổi trò chơiStefanie Stallmeister, Operations Manager for the World Bank in Vietnam, said the country has steadily improved in the Logistics Performance Index, moving from 53rd in 2010 to 39th in 2018, and performed better in the rankings than regional neighbours Malaysia, Indonesia and the Philippines. 
Vietnam's integration into global and regional markets with the Regional Comprehensive Economic Partnership (RCEP) and the EVFTA has increased the impetus to have a strong and competitive logistics sector. 
These agreements can generate more trade between Vietnam and trading partners, boosting economic growth and poverty reduction. Higher trade flows will also increase demand for better and more competitive logistics services, she said. 
Đổi trò chơiDespite Vietnam's improvement in the logistics performance index, Stallmeister said there are still limitations and shortcomings that must be overcome. 
For example, 80 per cent of survey respondents said Vietnam had high or very high road transport rates compared with the average of 40 per cent of respondents in the East Asia and Pacific region. Similarly, 40 per cent of survey respondents said Vietnam had high or very high port and airport charges compared with the average of 30-35 per cent of respondents in the region. The costs of road transport are particularly important in Vietnam where most freight travels by road between the north and south. 
Đổi trò chơiVietnam also ranked poorly in the efficiency of its seaports, 83rd out of 141 countries in its efficiency of seaport services, and ranked 103 in its efficiency of air transport services and the Quality of Road Infrastructure in the 2019 Global Competitiveness Index.  
Digitalisation 
There are more than 30,000 logistics firms operating in Vietnam with 59.02 per cent in the transport industry and 33.26 per cent in storage and supporting services, said Minister of Industry and Trade Tran Tuan Anh.
Đổi trò chơi"The COVID-19 pandemic has severely interrupted the global supply chain and logistics. Even as we speak, global logistics activities have yet to return to pre-pandemic level. In the first 10 months of the year, Vietnam has also suffered devastating damage caused by natural disasters," he said. 
Against all odds, however, the country has bounced back with the successful containment of COVID-19 and a number of key international trade deals such as the Comprehensive and Progressive Agreement for Trans-Pacific Partnership (CPTPP) and the EU-Viet Nam Free Trade Agreement (EVFTA). 
In the first 10 months of the year, Vietnam exported US$439.8 billion in goods and services, a 2.62 per cent increase from the same period last year, Anh said.  
Meanwhile, domestic commercial activities have taken to online platforms, speeding up digitalisation in commerce and logistics. As a result, firms and business households have benefited from lower operating expenses and greater market penetration with online marketing. 
Đổi trò chơiThe minister said as Vietnam intends to open its logistics market, firms in the sector should look to adjust and adapt to changes in supply, investment and services quality in a near future. 
Đổi trò chơiHanoi's Party Secretary Vuong Dinh Hue said investing in research and development was key in cost-cutting and the development of the sector. He urged firms to quickly establish research centres and to adopt the latest information technologies such as blockchain, cloud computing and virtual reality to improve efficiency and services quality. 
Hue also stressed the importance of reducing carbon emissions by increasing the use of renewable energy and logistical efficiency.   VNS

Đổi trò chơiSmarter logistics are key for Vietnam to advance in the global value chain amid the fourth industrial revolution and the COVID-19 pandemic, experts told the Vietnam Business Summit 2020 held in Hanoi recently.

Đổi trò chơiDigital transformation is taking place across industries in Vietnam, with more enterprises succeeding in this journey.