Tra fish exporters should remain calm amid China's control of imported frozen food
Ca Mau expands cultivation of giant river prawns, rice in same rice fields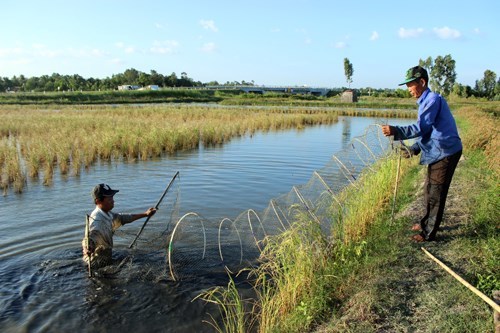 A shrimp – rice farming field in Ca Mau province.
Đổi trò chơiThe Mekong Delta province of Ca Mau has expanded the area for cultivating both giant river prawns and rice in the same rice fields, according to its Department of Agriculture and Rural Development.
Đổi trò chơiLast year, the province, which is the country's largest shrimp producer, had about 18,000ha devoted to breeding giant river prawns and growing rice, up 2.7 percent against 2018.
The farming model produces an output of 250 kilogrammes of giant river prawns per hectare a crop and more than 4.3 tonnes of rice per hectare a crop.
Đổi trò chơiFarmers can earn a profit of 15 – 20 million VND (650 - 870 USD) per hectare a crop under the model.
The model produces clean rice and giant river prawns with few chemicals.
However, the breeding of giant river prawns in rice fields is on small scale and scattered. The investment in infrastructure for giant river prawn – rice farming is also not sufficient, according to the department.
Đổi trò chơiIn the province, giant river prawns are bred in rice fields, orchard ditches and ponds with other aquatic species.
Chau Cong Bang, deputy director of the department, said the province could expand the area for both giant river prawns and rice in the same rice fields to 50,000ha in 2025 if the zoning and investing in infrastructure for the model goes well.
Đổi trò chơiThe model adapts to climate change and contributes to sustainable, environmentally friendly agricultural production.
Đổi trò chơiThe province's rice has high nutrient value, especially rice farmed under the shrimp – rice farming model.
Đổi trò chơiCa Mau is one of the delta's provinces with large giant prawn farming areas. The province has favourable natural conditions for aquaculture and has many shrimp farming models like semi intensive farming, intensive farming, advanced extensive farming, shrimp – rice farming and shrimp forest farming.
The province has 45,000ha of shrimp – rice farming and 30,000ha of shrimp – forest farming. The farming areas breed giant river prawns, black tiger shrimp and white-legged shrimp.
Most shrimp – rice farming areas are in the districts of Tran Van Thoi, Thoi Binh and U Minh.
Rice fields in the districts have suitable conditions as the shrimp grow well and eat mostly natural food and little processed food, according to the department.
Đổi trò chơiFor rice cultivation under the giant river prawn – rice farming model, the province has instructed farmers to grow saltwater-resistant rice varieties with short-term maturity like OM2517, ST24, OM5451, Ca Mau 1 and Ca Mau 3.
Đổi trò chơiThe province has encouraged farmers to link up with companies to secure outlets for their output, and has provided advanced farming techniques to farmers to improve yield and quality.
The province has also developed a model to breed male giant river prawns in rice fields under Vietnamese Good Agricultural Practices (VietGAP) to improve yield and quality.
Viettel named best mobile service provider in Vietnam
Viettel Telecom, a subsidiary of the Military Industry and Telecoms Group, took the lead among four mobile service providers in Vietnam in terms of mobile service in September, according to the Department of Telecommunications under the Ministry of Information and Communications.
Earlier, the department conducted a survey on the quality of mobile services in the northern provinces of Lang Son and Bac Giang in the last two weeks of September.
Viettel topped the list as it met all six criteria, especially techniques, readiness of wireless services, and call quality.
Đổi trò chơiThe results reflecting the technical quality of the mobile service providers in the surveyed localities were valid at the time of the survey.
Đổi trò chơiViettel is followed by other mobile service providers, namely VinaPhone, MobiFone and Vietnamobile.
Last year, Frost & Sullivan honoured Viettel Telecom as the best mobile data service provider in Vietnam 2019./.
Private airlines call for relief package to survive COVID-19 crisis
Vietnamese private airlines like VietJet Air and Bamboo Airways have asked the government for a relief package to help them weather the COVID-19 crisis after national flag carrier Vietnam Airlines received the go-ahead to the plan.
Ho Ngoc Yen Phuong, vice president and CFO of VietJet Air, said the firm had lost VND2,400 billion during the past three quarters of the year and its debts had amounted to VND10,000 billion.
Đổi trò chơiVietjet Air has achieved a growth rate of over 30% annually, but the COVID-19 pandemic caused its revenue to drop by 70%, Phuong told a seminar on November 26 to rescue the aviation industry.
Đổi trò chơiShe proposed that VietJet Air get access to commercial banks' preferential loans over 3-5 years to get through the crisis and it pay debts and interests over 2023-2025.
Đổi trò chơiSharing Phuong's view, Nguyen Khac Hai, deputy general director of Bamboo Airlines, said that private airlines are in dire need of mid- and long-term loans to surmount difficulties caused by the disease.
In addition, he proposed that the government consider reducing take-off, landing fees, as well as flight management and fuel costs until the end of 2021.
Đổi trò chơiSuch measures will help airlines tackle the crisis, recover and continue to contribute to the national budget, said Hai.
Đổi trò chơiPrivate airlines grappling with huge losses have appealed for preferential loans from commercial banks after Vietnam Airlines was green-lighted to access preferential bank loans to resolve the crisis.
Pham Van Hao, deputy head of the Civil Aviation Administration of Vietnam, said his agency is considering reopening international flights to Vietnam in a controlled manner. He also warned that it would take the aviation market three years to fully recover.
However, according to Dr Ngo Tri Long, an economic expert, the government should lend preferential loans to airlines to help them recover and at the same time to ensure fair competition.
Deputy Minister of Transport Le Anh Tuan acknowledged the airlines' proposals and his ministry would submit them to the government for consideration.
Paper businesses pin hopes on FTAs to boost exports
Bright prospects emerging from newly-signed Free Trade Agreements (FTAs) are anticipated to increase export opportunities for paper enterprises, according to the Vietnam Pulp and Paper Association (VPPA). 

Đổi trò chơiAt present there are more than 300 businesses, the majority of which are small-scale enterprises, operating in the field of paper production nationwide. Following a recent period of positive export growth, there appears to be a promising outlook ahead for paper exports to the Chinese market following its swift recovery from the COVID-19 pandemic.
Đổi trò chơiExperts believe that there is plenty of room for papermakers to boost tissue exports as the demand for the product remains high despite the impact of the COVID-19 epidemic. Yet local firms have still encountered difficulties when trying to export printing and writing papers as a result of low demand and high inventories, coupled with fierce competition in terms of price.
According to a VPPA representative, paper exporting enterprises must face up to challenges caused by price competition, especially for products imported from Indonesia, China, and Thailand from now till the end of the year.
Đổi trò chơiSeveral businesses have been forced to temporarily suspend operations and tighten their spending. Packaging paper exports to markets such as Indonesia, Philippines, India, Africa, Japan, and Western Europe are also forecast to witness reductions.
Đổi trò chơiDespite these challenges, local firms such as Hapaco Group and Viet Tri Paper Joint Stock Company have invested in production lines, striving to upgrade their equipment in an effort to improve the efficiency of their production capacity.
Đổi trò chơiMoving forward, the local paper industry has high hope with regard to new-generation FTAs and upcoming FTAs. Indeed, the Regional Comprehensive Economic Partnership (RCEP) is poised to allow firms to enjoy tariff reductions, with tax rates for paper and paperboard being slashed to 0%.
Ha Ngoc Hoa, vice chairman of Bac Giang Import-Export Joint Stock Company, emphasised that joining these FTAs ​​will help firms, even small and medium-sized enterprises, increase their exports due to tariff barriers set to be removed.
Đổi trò chơiHoa added that these expectations can only be achieved once the COVID-19 epidemic is fully brought under control, therefore facilitating greater international trade exchange.
Vietnamese tuna exports to EU record impressive growth
The nation's tuna exports to major markets in the EU, such as Italy, Germany, and Spain have seen respective increases of 60%, 20%, and 41%, with exports to the EU set to continue with strong growth until the end of the year, according to the Vietnam Association of Seafood Exporters and Producers of Vietnam (VASEP).
Đổi trò chơiSo far, the final quarter of the year has witnessed local tuna exports to some major markets record a number of positive changes, with tuna exports in October enjoying positive signs by reaching approximately US$ 65.5 million.
The United States remained as the largest tuna purchaser of Vietnamese tuna over the past ten months, with a value of US$235.5 million, accounting for over 43% of the total export value. The value of exports to the highly lucrative US market continued to recover and stabilise after enduring five consecutive months of decline as a result of the negative impact of the novel coronavirus (COVID-19) pandemic.
Despite this spell of recent growth, local firms believe that the growth rate still remains too low, therefore failing to compensate for declines which have occurred since the beginning of the year. With the US economy starting to reopen, it is expected that the demand for processed and canned tuna will continue to increase moving forward. Therefore, it seems likely that Vietnamese tuna exports to the US will continue to recover over the coming months.
Đổi trò chơiFurthermore, the implementation of the EU-Vietnam Free Trade Agreement (EVFTA) continues to have a positive impact on the country's tuna exports. The tariff incentives brought in by this trade deal have served to increase the competitiveness of Vietnamese tuna products in the EU market, a factor which can be seen as tuna exports in October recorded strong growth with an annual increase of 17%. Indeed, the first 10 months of the year saw the nation's tuna exports to the EU reach over US$115 million, representing a rise of 0.5% on-year.
It is forecast that Vietnamese tuna exports to the EU over the remaining two months of the year will continue to enjoy strong growth due to importers striving to prepare for import shipments in early 2021 as a means of enjoying the preferential tariffs under the EVFTA.
Most notably, local enterprises anticipate that this positive growth will continue during the last two months of the year due the demand for consumption set to see a higher increase during the upcoming holidays around the New Year.
Vietnam Venture Capital Alliance with 17 members makes debut
Đổi trò chơiVietnam Venture Capital Alliance (VVCA) was officially established, with the participation of 17 members, within the framework of the National Innovative Entrepreneurship Day (Techfest Vietnam 2020) which was underway recently in Hanoi.
The newly-established alliance consists of 17 members, namely ThinkZone Ventures, 500 Startups, CyberAgent Capital, Vietnam Investment Group, Openspace Ventures, Access Ventures, Quest Ventures , Genesia Venture, Monk's Hill Ventures, eWTP Capital, Teko Ventures, VIC Partners, Venturra, Next100, Nextrans, FEBE Ventures, Duane Morris.
The alliance aims to help increase the efficiency in attracting capital, introducing investment opportunities, and providing support to foreign investors, with a focus on three major tasks, including issuing annual summary reports on investment activities in Vietnam, holding a dialogue with the Government on investment in innovative start-ups and propose policies aimed at improving the startup investment environment, and acting as an official focal point for investment in the ecosystem to link with investment networks.
Đổi trò chơiThe Vietnam Investment Fund Alliance is a non-legal entity, consisting of investment funds operating together, sharing investment knowledge, market information, as well as proposing solutions for investment.
Đổi trò chơiVietnamese startup ecosystem has become dynamic. Last year, the country ranked third in Southeast Asia in the number of active startups, with more than 3,000 startups across a variety of fields.
Đổi trò chơiNotably, the nation ranked second in Southeast Asia in attracting venture capital investment, surpassing Singapore for the first time, and just coming behind Indonesia.
In particular, Vietnam's success in containing the COVID-19 pandemic is seen as a powerful driving force behind the stronger development of the nation's startup ecosystem.
Đổi trò chơiTherefore, Vietnam has become an increasingly attractive destination for investment funds around the world.
However, there still exist major barriers that many investors remain hesitant to enter the Vietnamese market, such as a startup that lacks fundamental knowledge about investment, or legal barriers to foreign investment funds.
Businesses team up for joint tourism development
As many as 120 tour operators have joined hands to develop tourism services in Hanoi, Ho Chi Minh City and five provinces in the Central Key Economic Region.

Businesses reached the agreement at a forum on tourism development held in Quang Nam province, central Vietnam on November 27.
Đổi trò chơiTravel firms and hotels examined ways to seek cooperation opportunities, strengthen connectivity to create new tourism products, and intensify the exchange of visitors across different tourism markets.
Le Thanh Thao, director of Hanoi-based AsiaSun Travel Company, said approximately 20 travel firms from Hanoi participated in the event, seeking ways to revive the tourism sector in the central region, an area which has been hit hard by both the COVID-19 pandemic and recent historic flooding.
Đổi trò chơiPhan Long, general director of Dai Viet Tour Company based in the central province of Quang Ngai, emphasised that teaming up with travel firms of Hanoi and Ho Chi Minh City will open up opportunities for the tourism industry in the central region to weather the COVID-19 crisis and get back on track.  
Đổi trò chơiDuring the function, local travel companies unveiled a range of activities in an effort to introduce their tourism products, along with showcasing new tours, offering discounted tourism packages, as well as exploring fresh tourism markets.
The same day, Quang Nam received the first group of tourists arriving under the new connectivity scheme. Seven cities and provinces also inaugurated spaces displaying tourism potential and products of each locality.
Quảng Ninh strives to attract 10 million domestic visitors in 2021
Đổi trò chơiThe northern province of Quảng Ninh will focus developing the "tourism at night" economy in the hope of attracting 10 million domestic visitors next year.
Đổi trò chơiQuảng Ninh Provincial Party Secretary Nguyễn Xuân Ký said the province sees tourism as a fast and sustainable service to spearhead economic sector in 2021.
At the 4th Provincial Party Executive Committee meeting held on November 25-26, Quảng Ninh determined that it would mobilise all resources to invest in building infrastructure and services to prove roads and access to the region.
Đổi trò chơiIt will form a chain of marine tourism, ecotourism, and high-grade resort tourism.
Đổi trò chơiThe province is rapidly restructuring the tourism industry after controlling successfully COVID-19, developing high-quality, branded tourism products capable of competing with regional and international countries.
Đổi trò chơiAttention will focus on attracting strategic, potential, and branded investors in the coastal areas of Vân Đồn - Cô Tô, Cái Chiên Commune in Hải Hà District and two communes of Vĩnh Thực and Vĩnh Trung in Móng Cái, Trà Cổ National Tourist Area.
Quảng Ninh will preserve and promote sustainably in Hạ Long Bay- UNESCO World Heritage Site, Đồng Sơn-Kỳ Thượng Nature Reserve, complete documents submitted to UNESCO for World Heritage recognition for Yên Tử relics and landscapes.
Đổi trò chơiThe province strengthens promotion activities and stimulate tourism demand, first of all focusing on the domestic market, and from COVID-19 pandemic controlled countries and regions, as well as restoring commercial flights to Vân Đồn airport.
It will also work with HCM City, Hà Nội, Hải Phòng, and the provinces of Hải Dương, Bắc Giang, Bắc Ninh in order to complement each other's advantages, make the most of market and infrastructure conditions and the unique tourism products of each region.
Đổi trò chơiFacing the strong impact of the COVID-19 pandemic on the tourism and service sectors, the province has implemented three tourism- stimulate packages.
Party Secretary Nguyễn Xuân Ký said the extension of the tourism stimulus package until the end of 2021 aims to support local services and tourism businesses.
Đổi trò chơiIf the stimulus package is not implemented, the risk of bankruptcy of Quảng Ninh's tourism and service businesses is very high, then businesses will not have the opportunity to develop when the pandemic is controlled, according to Nguyễn Xuân Ký.
Next year, the province will continue to reduce entrance fees at many attractions. 
Đà Lạt tourism honoured as the national brand in 2020
A product of the tourism sector of Đà Lạt City in the Central Highlands province of Lâm Đồng has been inscribed in the list of National Brand products of Việt Nam for the first time.
Đổi trò chơiThe tourism product entitled 'Recreational Tourism Associated With Exploring Natural Tourism Resources and Culture of Đà Lạt', is one of 283 products of 124 enterprises granted the title this year, according to the Ministry of Industry and Trade.
Đổi trò chơiThe tourism product, conducted by Dalattourist company, contains many highlights, being rich in regional cultures, history and offering a variety of services of both sightseeing, outdoor entertainment, sports and Central Highlands' cuisine.
Đổi trò chơiAlso according to the decision, two other products of Đà Lạt – Dalat wine and Chateau Dalat wine, products of Lâm Đồng Food Joint Stock Company, have been recognised as Vietnam National Brands.
Dalattourist owns and runs four famous tourist destinations in the city, namely Datanla Waterfall, Langbiang Mountain, Đà Lạt Cable Car and Tunnel of Sculptures. Every year, such destinations welcome millions of domestic and foreign tourists.
Đổi trò chơiThe Việt Nam National Brand Programme from 2020 to 2030 was approved by Prime Minister Nguyễn Xuân Phúc in 2019. The overall goal is to build an image of Việt Nam as a prestigious country in terms of high-quality goods and services, increase the pride and attractiveness of the country and people of Việt Nam, contribute to promoting foreign trade development and improving national competitiveness.
Đà Lạt City still preserves many ancient French-style villas. — Photofantasea.vn
Đổi trò chơiAs a locality where the economy depends heavily on tourism, the damage caused by the COVID-19 pandemic has greatly affected the socio-economic development of Đà Lạt and Lâm Đồng Province.
In the first eight months of this year, the total number of tourists to Đà Lạt was only more than 2 million, down by half compared to the figure in the same period last year.
Đổi trò chơi"From June until now, the province has implemented many activities to stimulate tourism demand such as launching tourism promotions and discounts. Many enterprises providing tourism services such as dining, accommodation, sightseeing have offered discounts from 30 to 50 per cent compared to normal days while many flights to Đà Lạt have also offered similar discounts," said Nguyễn Thị Nguyên, the Director of the Department of Culture, Sports and Tourism of Lâm Đồng Province.
"The province is also a safe destination as there have been no cases of COVID-19 infection. However, due to tourists' worries and current national economic difficulties, it will take a long time for the local tourism industry to recover and develop," she added.
COVID-19 accelerates banking digitisation: seminar
Đổi trò chơiThe Covid-19 pandemic has speeded up the banking sector's awareness of digitisation by three to five years and forced lenders to accelerate the process to survive and grow.
Đổi trò chơiThis is in line with global trends and provides a strong push for digitisation, delegates told the 2020 Viet Nam Retail Banking Forum titled 'The role of retail banking services in promoting economic digitalisation in the post-COVID-19 period' organised last week by the Viet Nam Banking Association and IDG.
Nguyen Toan Thang, secretary general of the Viet Nam Banks Association, said the pandemic has brought about a change in banking habits, with online banking transactions increasing sharply, especially during the social distancing period.
"Online banking has developed strongly with many new convenient services and products. Banks have invested plenty in modern technologies like contactless payment, super apps, virtual assistant."
He quoted a report as saying that in the first six months of this year the number of customers using mobile banking services increased by 1.4-2.6 times year-on-year.
Mobile banking transaction accounted for 40 per cent of the total transactions during this period, and even 80 per cent in some banks, he said.
Đổi trò chơiHe also shared a report from the National Payment Corporation of Viet Nam that said the amount of money withdrawn from ATMs fell from 90 per cent of total transactions in 2015 to 26.5 per cent this year. The 24/7 online money transfer increased from 1.1 per cent to 66.6 per cent.
Vu Viet Ngoan, Vice Chairman of the National Financial and Monetary Policy Advisory Council said COVID-19 has completely changed people's habits, forcing banks to change to meet these demands.
Đổi trò chơiThe other factor speeding up digitisation of the banking sector is the advancement of cutting-edge technologies like cloud, block chain and digital solutions, he said.
Đổi trò chơiDigitisation of banking is inevitable and would only increase since Viet Nam is one of the first countries to deploy 5G technology.
Furthermore, the start-up eco-system, including fintech, has rapidly developed, which would foster digitisation, he said.
"Banking is an important part of the economy. The digitasation of the economy cannot happen without the digitisation of the banking sector."
Đổi trò chơiParticipants also spoke about the difficulties they faced in digitising and said they should therefore join hands to seek solutions.
On the sidelines of the seminar an exhibition showcasing advanced technologies and products that have been used to digitise was organised.
The annual Viet Nam Outstanding Banking Awards were also given away. Instituted in 2012 they seek to honour the best banks and fintech companies and best banking services.
Đổi trò chơiThis year 16 banks and four fintech companies won them, with the Bank of Investment and Development Vietnam (BIDV), Viet Nam Joint Stock Commercial Bank for Industry and Trade (Vietinbank) and Saigon Thuong Tin Commercial Joint Stock Bank (Sacombank) being named the most outstanding retail banks.
Awards were also given for best digitisation, outstanding banking services and products and strong support to high-tech agriculture and small and medium-sized enterprises and community. 
Rubber Group to sell all 10.7 million shares in SIP
The Vietnam Rubber Group - Joint Stock Company (GVR) plans to sell all 10.74 million shares at Sai Gon VRG Investment Corporation (SIP).
Đổi trò chơiIt approved on Thursday the starting price of VND97,500 (US$4.22) per share.
On the stock market, SIP shares are being traded at around VND131,000 per share, increasing by over 67 per cent since the beginning of November.
Temporarily calculated at this market price, the amount that GVR can collect after the sale would be more than VND1.4 trillion, much higher than the initial investment of GVR in SIP of VND240 billion.
The offered 10.74 million SIP shares are equivalent to 11.76 per cent of SIP's capital. Over 9.34 million shares will be offered in the first phase, the other 1.4 million will continue to be offered as bonus shares.
Đổi trò chơiThe shares will be sold via order matching or put through method on the stock exchange.
Đổi trò chơiThe An Loc Investment and Urban Development Joint Stock Company is now SIP's largest shareholder with 16.27 per cent capital ownership; followed by Chairman Tran Manh Hung, GVR, Nam Tan Uyen Industrial Park JSC - a subsidiary of GVR and General Director Lu Thanh Nha.
SIP was established in 2007. It is involved in investment, construction and trading of industrial and residential infrastructure and land leasing.
The company also has huge land areas in many prime locations. For example, the Dong Nam industrial park has a total area of ​​342ha, located in a strategic location between HCM City and Binh Duong Province. Le Minh Xuan 3 Industrial Park, with an area of ​​220ha, is located in a prime location in Binh Chanh District - the bridge between HCM City and the Mekong Delta.
Phuoc Dong Industrial Park has a total scale of 2,838ha, of which the part for the industrial zone is 2,190ha, and commercial area 1,523ha. The park is located in the heart of Tay Ninh Province, the junction between HCM City and Phnom Penh.
In the first nine months of the year, GVR recorded revenue of VND12 trillion, post-tax profit reached VND2 trillion, down 6 per cent and 12 per cent compared to the first nine months of 2019.
GVR plans to achieve revenue of VND24.65 trillion in 2020 and after-tax profit of VND4 trillion, up by 8 per cent and 5 per cent respectively compared to 2019.
Đổi trò chơiThus after the first nine months of the year, the company has only completed 50 per cent of the profit plan.
Đổi trò chơiIn terms of cash flow, in the first nine months of the year, cash flow from main businesses was positive at VND1.244 billion over the same period last year.
Đổi trò chơiAs of September 30, GVR's total assets increased by 0.9 per cent to VND79.2 trillion, of which the amount of money and financial investment increased by 13.7 per cent compared to the beginning of the year, corresponding to an increase of VND1.9 trillion to VND15.5 trillion, accounting for 19.6 per cent of total assets. 
Binh Son Refining withdraws HNX listing application
Đổi trò chơiBinh Son Refining and Petrochemical Joint Stock Company (BSR) has sent a document to the Ha Noi Stock Exchange (HNX) to withdraw its registration for listing shares on the northern bourse.
Previously, BSR applied to list more than 3.1 billion shares on HNX on May 29.
However, due to the negative impacts of the COVID-19 pandemic and the fluctuation of world oil prices on the company, BSR has decided to postpone the stock listing plan to focus on core business.
BSR said it would consider listing again when the company's internal conditions and general market conditions are more suitable.
In the first nine months of this year, BSR suffered losses of nearly VND4.1 trillion (US$177.3 million). The accumulated loss of BSR as of the end of the third quarter was VND1.2 trillion.
Đổi trò chơiAccording to HNX regulations, a firm wishing to list must not have accumulated losses.
BSR shares were registered for trading on UPCom from March 1, 2018, with the first session's closing price of VND31,300. However, BSR has plunged and the current price is only about VND7,000-VND8,000 per share.
BSR is a wholly-owned subsidiary of Viet Nam National Oil and Gas Group (PetroVietnam) and operator of the $3 billion Dung Quat Oil Refinery, the first oil refinery in the country. The company's charter capital is VND31 trillion. 
EuroCham announces higher BCI in Q3 as business confidence rebounds
Đổi trò chơiThe European Chamber of Commerce (EuroCham)'s Business Climate Index (BCI) in the third quarter of this year jumped 24 points to reach 57.5 – the highest score since the outbreak of the global COVID-19 pandemic.
European business leaders in Viet Nam were more positive about their own enterprises in the third quarter with 40 per cent describing their performance as either "Excellent" or "Good" – more than double the 18 per cent recorded in the previous three-month period, according to a report on this index released on November 26.
Đổi trò chơiThe fourth quarter looks to be even more promising, with 44 per cent predicting a strong end to 2020. Meanwhile, most companies are anticipating stabilisation in their headcount (65 per cent) and investment plans (57 per cent), with just under half (44 per cent) expecting to see an increase in their revenue and orders.
With businesses able to operate with far fewer restrictions and the EU-Vietnam Free Trade Agreement (EVFTA) entering into force in the third quarter, the confidence of European business leaders has seen a strong resurgence.
The BCI also asked EuroCham members about the impact of the EVFTA on their business and investment plans. One-third said that the agreement was an important part of their decision to invest in Viet Nam, with the top two factors predicted to drive growth being tariff reductions (33 per cent) and greater market access for investors (13 per cent).
"Despite a difficult 2020 for international trade, our data shows that Viet Nam's swift and effective response to the global pandemic has paid dividends. European business leaders feel more positive both about their own enterprises and Viet Nam's trade and investment environment, and report a sense of cautious optimism going into quarter four," said Nicolas Audier, Chairman of EuroCham in Viet Nam.
Đổi trò chơi"The implementation of the EVFTA in August has, no doubt, helped boost this growing confidence. Our data shows that falling tariffs and growing market access are important to our members, and will help to spur new foreign-direct investment from the EU in the future."
In addition, Thue Quist Thomasen, CEO of YouGov Vietnam that conducted the BCI report, said: "Drilling down into the data, we can see some of the trends that underlie the jump in positive sentiment in more detail. In short, business leaders are reporting a sense of cautious optimism in their own companies, and this is driving confidence in Viet Nam's macroeconomic prospects next quarter."
Đổi trò chơi"In particular, the proportion of business leaders predicting an increase in their orders or revenue in the next three months has risen by 20 per cent – from 24 per cent in the second quarter to 44 per cent in the third quarter," Thomasen said.
Meanwhile, 23 per cent of business leaders expect to hire more staff in the next three months, compared to 14 per cent in the last BCI. Together, these signals point to a positive end to 2020, he said.
The BCI is a regular barometer of EuroCham members and their perceptions of the trade and investment environment. Each quarter, it tracks the performance of EuroCham's member companies and their perceptions of the economic outlook in Viet Nam.
Đổi trò chơiIn the first quarter of 2020, when COVID-19 first hit international trade and investment, the BCI fell to 26 points. It saw a slight increase in the second quarter as Viet Nam became one of the global success stories of the pandemic. 
Mitsubishi Materials invests $90 million for 10 per cent stake in Masan High-Tech Materials
 
Đổi trò chơiMasan High-Tech Materials Corporation (MHT), a subsidiary of Masan Group, on November 27 announced it has wrapped up a strategic alliance in the tungsten industry with Japan's Mitsubishi Materials Corporation (MMC) with an objective to develop a leading, high-tech tungsten materials platform.
As part of the strategic alliance, MMC bought 109,915,542 newly issued shares via a private placement for a cash consideration of US$90 million.
MMC now owns 10 per cent of the fully diluted share capital of MHT and is the second largest shareholder.
The parties will discuss developing a separate business unit to strengthen and unlock synergies for their respective mid-stream tungsten platforms.
The ability to offer cutting edge solutions to customers and the strategic flexibility of being integrated across the value chain is a critical factor in delivering sustainable growth and will continue to be a critical factor in the tungsten space.
Đổi trò chơiMHT prides itself on constantly delivering improved and innovative product offerings. MHT is one of the only tungsten platforms that benefits from regular supply of primary (concentrates) and secondary raw (recycled) materials that are then further processed into the finest quality oxides, powders, carbides and chemicals.
Đổi trò chơiThe success of MHT is underpinned by a combination of world-class research and development with dedicated applications engineers who have a track record of delivering fine-tuned specifications to meet end customers' evolving demands.
After the acquisition of H.C Starck , a leading global mid-stream tungsten business, in June this year, MMC's participation as a strategic partner is a validation of management's transformation into a vertically integrated high-tech tungsten platform.
Đổi trò chơiMMC will add significant value as a strategic partner, and through partnering the parties will be positioned to develop better leading-edge solutions for end customers which will accelerate growth.
Đổi trò chơiThey include establishing the opportunities for joint collaboration and investment in revolutionary research and development of key technologies to enhance the parties' respective high-tech tungsten portfolios, improving their ability to provide industry-leading quality and performance of high-tech tungsten materials products, and finally strengthening the sales network in the Asia Pacific region.
Đổi trò chơiCredit Suisse acted as exclusive financial advisor to MHT.
Đổi trò chơiKey regulatory and MHT shareholders' approvals required for the strategic investment have been obtained.
Entering the poultry meat market
On the same day Masan MEATLife Joint Stock Company (MML), another subsidiary of Masan Group, announced the acquisition of 51 per cent of 3F VIET Joint Stock Company, a leading domestic player in the poultry meat market, through a primary injection of VND613 billion ($26.37 million).
Established in 2014, 3F VIET has emerged as one of the country's leading players with a vision to transform the poultry market with chilled packaged and processed chicken meat products.
Its offerings span the value chain, from breeding, hatcheries and meat farms to large-scale food processing and packaging, all complying strictly with environmental standards related to food hygiene and safety.
With an efficient operating model, 3F VIET hopes to generate revenues of VND1trillion ($43.1 million) with break-even EBITDA in financial year 2020.
The VND613 billion will be used by 3F to expand its business and build a poultry power brand.
Regulatory approvals required for the transaction have been obtained.
Masan MEATLife CEO Pham Trung Lam said: "Entering the poultry meat market through the investment into 3F VIET is a part of Masan MEATLife's vision to transform into a pure FMCG company.
Đổi trò chơi"With the completion of this strategic milestone, we expect to bring breakthrough value to consumers in a much more scalable fashion and develop power brands. Our mission is to supply fresh, safe, affordable, and traceable meat products to each and every Vietnamese consumer." 
Huawei Viet Nam launches Seeds for the Future 2020 programme
Huawei Viet Nam has officially launched its Seeds for the Future 2020 programme for outstanding information and communication technologies (ICT) students in the country's universities and colleges.
Đổi trò chơiSeeds for the Future is Huawei's flagship global corporate social responsibility (CSR) programme. The programme was launched in 2015 in Viet Nam. This programme aims to develop skilled, local ICT talent and bridge communication between countries and cultures.
Đổi trò chơiSpeaking at the launching ceremony, Jay Chen, vice president of Huawei Asia Pacific Region, said: "Talent is so important for the growth and development of any industry and the rapidly growing ICT industry has greatly changed business models and customer requirements. As a result, across the ICT ecosystem there is an urgent need for large numbers of technical staff who can address the challenges posed by this transformation."
In 2020, despite the impacts of the COVID-19 pandemic, travel is limited, the fifth Huawei Viet Nam's Seeds for the Future programme will continue to be deployed in the form of online training.
Đổi trò chơiStudents can learn the latest technologies such as 5G, AI, cloud computing, IoT on the dedicated Huawei iLearning X learning platform.
Sun Bohan, CEO of Huawei Vietnam, said: "Huawei Vietnam will continue to hold Seeds for the Future activities in the future and hope to co-operate with domestic universities to help build the system. Students will be the key pillars for building digital Viet Nam in the future. I hope you can appreciate your learning opportunities and contribute to digital transformation in the country."
Ministry withdraws licence from Thua Thien-Hue hydropower plant
The Ministry of Industry and Trade has revoked Thuong Nhat Hydropower Plant's licences in the central province of Thua Thien-Hue for violating regulations.
Đổi trò chơiThe decision took effect from November 27.
According to a report from the ministry, the Thuong Nhat Hydropower Plant in Nam Dong District which was being built by the Central Hydro Power Joint Stock Company with investment of over VND341 billion (USD14,826) has a capacity of 11MW and a reservoir capacity of 17 million cubic metres.
Đổi trò chơiThe project had not been completed and so was not allowed to store water for operation.
Đổi trò chơiHowever, Thuong Nhat Hydropower Plant had been found to repeatedly breached the water storage ban from Thua-Thien Hue authorities in the rainy and flooding season, especially during recent storms Molave and Vamco.
Local authorities then asked the plant to discharge water through five spillway gates following the Storm Molave, but the plant continued to store water after Storm Vamco.
Đổi trò chơiAccording to vice-chairman of Nam Dong District People's Committee, Le Thanh Ho, since February, the plant has stored water unlawfully many times.
On November 17, the Ministry of Industry and Trade established a team to inspect the project's compliances on reservoir management and natural disaster prevention and control. The inspection team proposed to revoke the licence after finding the violations at the plant.
National Tourism Conference seeks solutions to save tourism industry
The number of international travelers to the nation this year is anticipated to fall by over 80%, while the figure for domestic tourists will witness a 45% fall, resulting in estimated losses of US$23 billion.
The Ministry of Culture, Sports and Tourism in co-ordination with the Quang Nam provincial People's Committee and the Private Economic Development Research Board launched the National Tourism Conference 2020 on November 28 with the theme of "Linking, Action and Development". In attendance at the event were hundreds of travel operators from across the country.
Đổi trò chơiSpeaking at the conference, Deputy Prime Minister Vu Duc Dam emphasized that the local tourism industry has since established for 60 years and has development associated with several national historical periods. Overall, it has made plenty of positive contributions to boosting economic development, expanding diplomatic relations, and encouraging cultural and people-to-people exchanges between with other countries across the globe.
Đổi trò chơiThe Deputy PM added that digital transformation in tourism development is vital, not only for the industry, but for all other economic sectors. The digital transformation and application of achievements through Industry 4.0 technology must be urgently implemented in all aspects of tourism, especially in tourism promotion and research, along with in tourism business management.
Đổi trò chơi"Digital transformation is a meticulous and uneasy process, requiring determination and close cooperation from all parties. The Government should adopt a policy aimed at supporting businesses involving in digital transformation. If this problem cannot be resolved, Vietnam's tourism industry will be outdated, lagging behind and unable to compete with other countries in the region," stressed Deputy PM Dam.
Đổi trò chơiHe therefore called for greater efforts to be made, coupled with high determination, to overcome difficulties and work together for the development of the green economy in the future.
Đổi trò chơiAccording to Minister of Culture, Sports and Tourism Nguyen Ngoc Thien, since the beginning of the year, the novel coronavirus (COVID-19) pandemic has directly affected the Vietnamese tourism industry, along with the global tourism sector. The industry has therefore suffered significant losses which has led to a decline in related fields.
Đổi trò chơiFurthermore, tourism growth has had a positive impact on many sectors and various aspects of social life, thereby creating plenty of jobs and serving as a means of improving income, and ensuring social security for citizens. This therefore serves to contribute to promoting friendship ties, preserving cultural values, boosting environmental protection, and aiding economic restructuring. Despite these benefits, tourism also represents an industry that is vulnerable to the various impacts and damages caused by natural disasters and epidemics, the Minister said.
Đổi trò chơiThis year's conference is being held for the purpose of assessing the current climate whilst striving to develop solutions aimed at restoring and invigorating tourism development moving forward. The sector is currently carrying out the dual goals of implementing safe epidemic prevention measures, whilst attempting to boost the tourism industry in an effective and sustainable manner, Minister Thien stated.
Moreover, leaders from the Ministry of Culture, Sports and Tourism highlighted the outstanding development results achieved by the country's tourism industry from 2015 to 2019. During this period, international visitors to the nation surged by 2.3 times or 22.7% on-year, while domestic visitors saw annual rises of 10.5%, climbing from 57 million to 85 million.
Đổi trò chơiIn the framework of the conference, representatives from other provincial People's Committees such as Quang Ninh, Thua Thien-Hue, and Ho Chi Minh City introduced connectivity solutions as a means of optimising resources. This is done in an effort to create linkages between localities in the region whilst providing a new driving force behind tourism development during and after the pandemic, along with applying digital technology at cultural tourist spots.
Đổi trò chơiRepresentatives of relevant ministries and departments also presented support solutions aimed at meeting the requirements of tourism development moving forward. In addition, there was a signing ceremony carried out of documents regarding tourism co-operation and development between Hanoi, Ho Chi Minh City, and five other provinces and cities, including Thua Thien-Hue, Da Nang, Quang Nam, Quang Ngai, and Binh Dinh in the key central economic region.
Source: VNA/VNN/VNS/SGGP/VOV/NDO/Dtinews/SGT/VIR