Businesses prepare for Tet, to ensure sufficient supply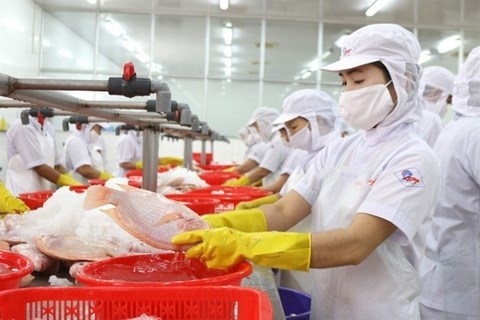 Businesses are working to ensure there is adequate supply of goods for Tet, especially of essential goods such as meat and rice. (Photo: nld.com.vn)
Businesses are increasing production to ensure sufficient supply of goods for the upcoming Lunar New Year Festival (Tet) early next year and steady prices during the year's biggest shopping season.
Đổi trò chơiHo Chi Minh City's Department of Industry and Trade recently announced plans for its annual market stabilisation programme to ensure adequate supply of essential goods for a month each before and after the festival.
Demand for items such as drinks and confectionery is expected to spike by 20 percent during Tet, while wholesale markets may need to stock 80 percent more flowers than normal to meet demand.
Đổi trò chơiBesides increasing production, companies are also working on launching new products and business models. For instance, Ba Huan Joint Stock Company will produce more varieties of processed goods for Tet, while Vinamit Joint Stock Company is focusing on working with online distributors and launching new nutritious vegetable and fruit drinks by the end of the year.
According to the department, large retailers are set to stock goods two or three times as in normal months though most are reluctant to announce their exact business plans for Tet.
Due to negative factors like the COVID-19 pandemic and flood in central Vietnam, demand during next year's Tet might be lower than normal, many businesses feared.
They need to utilise online channels and spend more on marketing and promotions, they say.
The Ministry of Industry and Trade has called on province and city authorities across the country to monitor local production and business plans, have plans in place to deal with potential market anomalies and keep an eye on the market to ensure a steady supply of essential goods and those covered by price stabilisation programmes.
Singapore enhances funding in RMB for banks
The Monetary Authority of Singapore (MAS) on November 23 announced funding of up to 25 billion RMB (5.11 billion USD) for banks in Singapore.
Đổi trò chơiThe scheme enhances RMB liquidity and supports banks' abilities to meet their customers growing business needs in the currency for Singapore and the region, said the country's central bank in a statement.
RMB funding of up to three months will be channelled to primary dealers - banks in Singapore approved by the MAS - through the authority's money market operations.
Đổi trò chơiTo support the development of the offshore RMB market in Singapore, the authority previously established the MAS Overnight RMB Liquidity Facility along with the MAS RMB Facility.
Đổi trò chơiFollowing the introduction of the new initiative, the MAS Overnight RMB Liquidity Facility, which had a size of five billion RMB, will be discontinued from November 23, while the MAS RMB Facility remains in operation./.
Singapore's economy further recovers
The Ministry of Trade and Industry (MTI) of Singapore on November 23 narrowed its forecast contraction to between 6 percent and 6.5 percent in 2020, from 5 percent to 7 percent before, as GDP improved in the third quarter.
Đổi trò chơiThe economy shrank by 5.8 percent year-on-year in Q3, beating an earlier estimate of a 7-percent decline, on better-than-expected factory output in September. The latest print takes the contraction for the first nine months to 6.5 percent.
The country's GDP is projected to grow by 4 percent to 6 percent in 2021, as the world's major economies recover from the economic disruption of the COVID-19 pandemic.
The recovery of the Singapore economy in the year ahead is expected to be gradual, and will depend to a large extent on how the global economy performs and whether Singapore is able to continue to keep the domestic COVID-19 situation under control, the MTI added.
With Singapore in the second phase of its three-stage reopening, the economy shrank by a more gradual 5.8 percent year-on-year in the July-September period, moderating from the 13.3 percent plunge seen in the three months prior.
On a quarter-on-quarter basis, Singapore's GDP added 9.2 percent in the third quarter, after slipping 13.2 percent in the second quarter./.
Asia Times highlights Vietnam's positive economic growth
Đổi trò chơiVietnam will be one of the few nations worldwide to record positive economic growth in 2020 despite a global collapse in trade, travel and investment caused by the COVID-19 pandemic, according to an article recently published by the English language news media publishing group Asia Times.
Vietnam's relative economic success is somewhat surprising considering that the country's government has affirmed that it won't put economic recovery ahead of public health, it noted.
Vietnam is not only the envy of its COVID-hit Southeast Asian neighbours, but it has also earned international plaudits for its resilience, according to the article.
Đổi trò chơiThe article cited the Lowy Institute's Asia Power Index published last month, which revealed that Vietnam's international image was one of the Asia-Pacific's best improvers this year, with its score on diplomatic influence gaining six percentage points.
Earlier this year, Vietnam had the third-highest improvement in international reputation because of its handling of the pandemic.
In some ways, Vietnam had advantages over its Southeast Asian neighbours, the article continued.
Đổi trò chơiThe service sector accounted for 45 percent of Vietnam's GDP last year but grew by just 3.2 percent in the first quarter of 2020, down from 6.5 percent in the same period last year.
"Vietnam's economy is also less dependent than other Southeast Asian nations on tourism, which accounted for 9 percent of its GDP in 2018, compared with 32 percent for Cambodia and 20 percent for Thailand. It has thus faced less pressure due to the collapse of international travel".
Đổi trò chơiThe country also went into 2020 on the back of two years of robust foreign direct investment flows. In June, Vietnam ratified the EU-Vietnam Free Trade Agreement and recently play host to a signing ceremony for the Regional Comprehensive Economic Partnership, the world's largest, Asia-centric trade pact which Vietnam is now a member.
According to the article, the IMF in its latest reported noted that Hanoi's 'decisive steps to contain the health and economic fallout from COVID-19' were a primary reason for positive economic growth this year, a recognition of the Communist Party of Vietnam's quick and competent response.
The IMF expects that recovery to carry over strongly into 2021 with growth of 6.5 percent as normalisation of domestic and foreign economic activity continues.
In the first nine months of the year, Vietnam recorded 21.2 billion USD in new foreign investment projects and overseas capital injections, equivalent to around 80 percent of the investment it received over the same period last year.
Đổi trò chơiMany of the investments made this year won't begin operations until 2021 or later, which also points to a healthy economic recovery./.
Malaysia begins construction of Singapore-Johor RTS Link
Malaysia began construction of a Rapid Transit System (RTS) Link project between Singapore and Johor state with a groundbreaking ceremony at Bukit Chagarn station on November 22.
The event was attended virtually by Johor's ruler Sultan Ibrahim Iskandar, Johor Crown Prince Tunku Ismail Sultan Ibrahim, Malaysian Transport Minister Wee Ka Siong, Johor Chief Minister Hasni Mohammad and other government officials.
CEO of Malaysia's MRT Corp Mohd Zarif Hashim said the project will be completed in December 2026, and it will take only five minutes to travel from Johor's Bukit Chagarn to Singapore's Woodlands North station.
Đổi trò chơiAn estimated 150,000 people, half of the number of people crossing the border daily, are expected to use the system daily.
Mohd Zarif Hashim said the RTS consists of four coaches, with one able to carry 250 people at one time, adding his firm is in charge of the project and pledges to ensure affordable ticket prices.
Wee Ka Siong committed the project will be carried out effectively and completed in line with schedule.
Đổi trò chơiThe total cost of the RTS project is estimated at 10 billion RM (2.44 billion USD). Both governments have agreed to a split of 61:39, with Malaysia forking out 3.71 billion RM for the project./.
Vietnamese firms in Laos seek Government support
Over 100 Vietnamese firms doing business in Laos attended a conference in Vientiane on Sunday to put forward ideas to be submitted to the two Prime Ministers and ease difficulties they are facing.
Speaking at the event, Vietnamese Ambassador to Laos Nguyen Ba Hung said that with socio-political stability and great bilateral friendship, Laos is now Viet Nam's largest source of outbound investment, adding that as a member of the Regional Comprehensive Economic Partnership deal, Laos will realise policy and mechanism reform to create more favourable conditions for foreign firms, including Vietnamese.
Đổi trò chơiAs many as 14 corporate representatives praised the Lao Government's support for Vietnamese enterprises in the host country.
They suggested that the Vietnamese Government offer all possible support in terms of capital and resources to Vietnamese firms investing in Laos, such as mechanisms and policies related to land ownership rights, export and import of goods and labour.
Pham Quang Phu, General Director of Sacombank in Laos, said Laos is a developing country with insufficient human resources and a small market scale but stiff competition.
Đổi trò chơiWithout efficient support from the Government, it is very difficult for Vietnamese enterprises to compete with foreign rivals in the same industry, Phu who is also vice chairman of the Vietnam Business Association for Cooperation and Investment in Laos (BACI), said.
Đổi trò chơiThat would lead to a sustainable growth in import and export turnover and deepening the bilateral relations between the two countries, he said.
During the event, enterprises also called on the two State banks and governments to consider encouraging the use of Lao and Vietnamese currencies to ease reliance on the US dollar and pressure on the shortage of foreign currencies.
Barriers to doing business in Laos should also be removed to carry the Lao economy forward, contributing to further tightening bilateral friendship, they said.
They also emphasised the importance of launching an investment support fund to small and medium-sized enterprises.
Đổi trò chơiPhan Van Son, Director of ISEEVINA import - export company, petitioned the leaders of the two governments to establish an investment support fund which could be raised from the State budget, commercial aid or from strategic investors and successful entrepreneurs.
With a value of between US$5 million and $10 million, the fund could incubate hundreds of start-up dreams, he noted.
Đổi trò chơiAccording to the Association of Vietnamese Investors in Laos, Viet Nam now ranks third among countries and territories investing in Laos with over 400 projects worth nearly $4.2 billion.
Đổi trò chơiIn the first half of 2020, two-way trade reached $492 million, down 15 per cent year-on-year due to the outbreak of the COVID-19 pandemic. During the period, Vietnamese exports to Laos saw a yearly decline of 20 per cent to $277 million. 
Int'l Agriculture Trade Fair 2020 slated for December 3
The 20th International Agricultural Trade Fair (AgroViet 2020) is scheduled to run in Hanoi from December 3 to 6, according to a press conference held by the Ministry of Agriculture and Rural Development (MARD) on November 23. 

Đổi trò chơiDao Van Ho, director of the ministry's Trade Promotion Centre of Agriculture, said AgroViet represents an important trade promotion activity that offers an opportunity for firms nationwide to expand business co-operation and connect with new enterprises and consumers.
Đổi trò chơiThe annual fair also offers the chance for businesses to look into customer demands  in an effort to improve product quality and competitiveness, he added.
Đổi trò chơiApproximately 200 firms have registered to showcase a range of agricultural machinery, safe agro-forestry-fishery products, and handicraft products throughout 200 booths at the fair, according to organisers
Đổi trò chơiDuring the four-day event, a number of forums will also be taking place, including a forum aimed at promoting domestic production and consumption of agricultural products.
Đổi trò chơiOrganisers will bring a total of 500 delegates from 10 farmers' associations in the Red River Delta to visit the fair to learn how best to utilise the new technologies on show.
Vietnam regarded as top investment destination for Japan businesses
Several Japanese investors have stated that they are keen to select Vietnam as their primary investment destination as the world moves past the impact of novel coronavirus (COVID-19), with the wave of Japanese investment into the country set to continue. 

Vietnamese enterprises have been advised to make rapid adjustments in order to adopt strategies aimed at seizing upon opportunities from the fresh wave of investment from Japan, according to insiders. 
Most notably, over 2,000 Japanese enterprises had invested in the country by the end of 2019, with the East Asian nation therefore ranking second with a total registered capital of US$59.6 billion, making up 15.6% of total investment capital.
During the opening nine months of the year, Japan also had 209 new investment projects nationwide, ranking third among the country's investment partners.
Đổi trò chơiThis comes after the Japan External Trade Organization (JETRO) recently unveiled a list of 15 companies that have received subsidies from the Japanese Government to relocate from China to Southeast Asian countries, including Vietnam, the Philippines, Malaysia, Thailand, and Laos.
Đổi trò chơiFurthermore, according to a survey by JETRO published in February of Japanese enterprises investing in Asia and Oceania, 63.9% of firms doing business in Vietnam stated that they would continue to expand business operations throughout the country, representing the highest rate in ASEAN and ranking third in relation to the Asia and Oceania region.
This can therefore be considered a good opportunity for local firms to strive to enhance co-operation and connectivity with Japanese enterprises, especially those businesses that operate in the field of manufacturing spare parts and supporting technologies.
Đổi trò chơiMoreover, Japanese enterprises have selected Vietnam for merger and acquisition (M&A) deals with 19 M&A transactions taking place between both sides during the reviewed period.
According to experts, businesses are required to encourage technology transfer to help boost technology level and production capacity as a means of meeting the strict requirements in terms of product quality, environmental protection, labour safety, and benefits for workers.
Vietnam Medipharm Expo to get underway in Hanoi this December
The 27th version of the Vietnam International Hospital, Medical & Pharmaceutical Exhibition (Vietnam Medipharm Expo) is set to run from December 5 to December 7 in Hanoi, according to the Vietnam National Trade Fair & Advertising Company (Vinaxad). 

Đổi trò chơiOn display throughout the 200 booths on show will be a range of cutting-edge technologies and medical equipment produced by popular domestic enterprises, including Hau Giang Pharmaceutical Joint Stock Company and Bagiaco Pharmaceutical Joint Stock Company, along with 150 enterprises from 18 nations globally.
Đổi trò chơiThe exhibition will also feature an online trade exchange between more than 15 businesses from Vietnam and the Republic of Korea, with the meeting due to be held via Zoom.
According to statistics released by organisers, the number of foreign and local enterprises registering to take part in the event has increased by 15% and 10%, respectively, this year. Indeed, major pharmaceutical products are now being made in fields as diagnostic equipment, implants, functional rehabilitation, and surgery, along with dental equipment and beauty care technology.
The function is to be jointly organised by Vinexad and the Vietnam Pharmaceutical Companies Association (VNPCA).
US, Japanese investors eye large LNG projects in Khanh Hoa
A series of leading financiers from the United States and Japan have proposed making investments in several large liquefied natural gas-fired (LNG) power and storage plants in the Van Phong economic zone of Khanh Hoa province.

Đổi trò chơiAt present, a total of four giant investors, including Sumitomo Corporation and J-Power of Japan, along with a venture between Vietnamese firm Embark United and Quantum and Millennium Group from the US, have expressed their keen interest in injecting money into (LNG) power and storage plants in Khanh Hoa, the provincial administration has said.
Khanh Hoa has agreed to select four locations that are suitable for the implementation of the projects, including Van Phong 2 area, Ninh Thuy Industrial Park, Van Phong petrochemical refinery complex, and Ninh Tinh Industrial Development Zone. Each of these locations is part of the southern area of the Van Phong economic zone.
Đổi trò chơiAccording to a statement issued by local authorities, the proposed LNG power projects have investment capital of over VND800 billion each.
China becomes largest buyer of Vietnamese catfish
China has become the largest importer of Vietnamese catfish in the past 11 months. 
Đổi trò chơiAccording to Vietnam Association of Seafood Exporters and Producers (VASEP), an unofficial survey showed that even though total catfish export volume dropped by 20.6%, export revenue to China and Hong Kong reached USD385m, accounting for 34.4% of the total catfish export revenue.
Đổi trò chơiVietnamese catfish processing firms also increased exports to China. Many kinds of catfish products are exported to China including frozen catfish, frozen catfish fillet or dried catfish bladder.
Statistics from VASEP show that by the end of the third quarter of 2020, catfish imports in many countries have improved. This has helped to slightly raise raw catfish prices in the Mekong Delta Region. A 0.7-0.8kg fish in Dong Thap Province costs VND22,000 (USD1) to VND23,000, an increase of VND2,000 to VND3,000 compared to the same period last year.
Đổi trò chơiSome 120 Vietnamese firms are exporting catfish to China.
500 Startups Vietnam has made 15 new investments in 2020
500 Startups, the most active venture capital investor in Vietnam, has made 15 new investments in 2020 so far, increasing its portfolio to more than 70 companies.
"In the past five years, the tech entrepreneurial ecosystem has evolved even faster than we could have even imagined. And yet there's still a lot of room to run and grow. We're thrilled and honoured to be a part of the journey," said Eddie Thai, general partner at 500 Startups.
Đổi trò chơiThe venture capital fund is often featured among the most active VC investors in Southeast Asia by market researchers at Preqin, White Star Capital, and elsewhere.
Most recently, 500 Startups has hosted on Friday its latest startup Demo Day to showcase rising stars in its portfolio. Most of the nine presenting startups have graduated from the three-month Saola Accelerator programme, where 500 Startups Vietnam invested up to $150,000 in each participating company. Collectively, the nine presenting startups are doing business in 17 markets across the Asia-Pacific, Europe, and North America. Launched in 2019, Saola Accelerator has hosted three batches with a total of 17 startups, including a mix of fintech, edtech, and e-commerce businesses.
Đổi trò chơiBizzi is an intelligent accounts payable automation platform. By July 2022, all Vietnamese businesses will be required by law to adopt e-invoicing. Bizzi was born to help local SMEs comply with the regulation and further digitise their cash flow management. Since its launch in February, they have signed 100+ clients including a top 3 convenience store chain and a leading pharmacy chain.
Đổi trò chơiMeanwhile, CoolMate is a digital wardrobe for men that helps men stock up on daily essentials easily. Via CoolMate, customers can order up to 10 quality items like t-shirts, underwear, and socks for under $20. With 100,000 orders delivered to date, they are determined to revolutionise the retail experience for Vietnamese men.
Another startup Cricket One is classic protein for the modern world. Crickets are the protein of tomorrow – tasty and sustainable. Cricket One has figured out the secret to farm and produce crickets efficiently and at scale. Claiming to have the largest production capacity in the world, they are already exporting to 12 countries in three continents and are well on their way to feed the future.
Other startups include PI.EXCHANGE (Virtual data scientist for enterprises) and ProSpark (Learning platform for upskilling and reskilling the workforce in Southeast Asia). There are also Staple (AI data capture layer for finance, banking, and healthcare), TradingFoe (B2B marketplace for Nordics and Southeast Asia trading), Tribee (employee experience app), as well as Voiz (an audiobook and podcast app for Vietnam and beyond).
Đổi trò chơiAt the same event, 500 Startups Vietnam introduced its newly-minted edtech unicorn, ApplyBoard. The platform aims to help international students access quality higher education in the US, the UK, and Canada. ApplyBoard Vietnam country manager Duong Pham noted, "Vietnam is one of the largest sources of international students in the world and is predicted to grow sustainably. ApplyBoard aims to be the market share leader in the recruitment market by 2021."
M&A ecosystem maintaining shine
The unexpected events surrounding the pandemic have taken a toll on the mergers and acquisitions market, but Vietnam's dealmaking activities are expected to gain traction in the forthcoming bustling months thanks to the country's solid fundamentals.
The outbreak has plunged many economies into deep recession and disruption, seriously hampering investors' appetite, bringing about a decline of 25 per cent in mergers and acquisitions (M&A) valuation worldwide in the first half of this year.
Đổi trò chơiThe Vietnam M&A Forum Research Group (MAF Research) predicted that the domestic market will rebound following a V-shaped trajectory during 2021-2022, hitting $4.5-5 billion in 2021 and $7 billion in 2022.
The Regional Comprehensive Economic Partnership, signed on November 15, is envisaged to provide additional impetus for the local and global investors to further enhance their ties and increase their foothold in overseas markets. Furthermore, dealmaking activities should regain traction when three amended laws come into effect from February 1, 2021.
According to the Law on Securities and the draft decree on implementing it, foreigners will not be limited with regards to the ownership ratio in public-listed firms. The Law on Investment, meanwhile, is set to benefit international financiers, since they will be allowed to approach the market in a similar scheme that is applied for domestic ones, except for some sectors where such approaches are limited.
Đổi trò chơiPham Mai Huong, director of Deal Advisory at KPMG Vietnam, told VIR that M&A deals keep their glitter thanks to their ability to add value for the buying side's ecosystem, illustrated in the cases like Masan and VinCommerce, and Thailand's largest retailer Central Group and Nguyen Kim. "In general, investors tend to be more conservative amidst the worldwide economic uncertainty. Yet, deep-pocketed investors will seize the opportunity with both hands with an 'acquire-on-the-cheap' strategy," Huong said.
On the other hand, the Ministry of Finance stated that challenges due to the COVID-19 pandemic in addition to an already volatile market have thrown a monkey wrench in the works for state divestment.
According to consultancy Boston Consulting Group (BCG), the sheer economic disruption has compounded debt burdens for a wide range of businesses, and the natural response has been to divest non-core operations. The number of distressed deals is likely to spike as a result.
BCG believes record levels of dry powder currently sitting with global private equity and venture capitalists show that investors have the money and are just waiting to spend it.
The proportion of M&A value from the domestic sector tends to increase thanks to the dominance of privately-run corporations, such as Masan, Vingroup, THACO, and The PAN Group. During the last two years, M&A with Vietnamese companies being the acquirers accounted for one third of the total value compared to around 12 per cent in 2018.
Đổi trò chơiA slew of dealmaking plans are allegedly under negotiation, such as Norway-headquartered SN Power AS buying Vietnam's Dam Nai Wind Power from Singapore's Armstrong Asset Management, and STADA Service Holdings B.V. from Germany wholly acquiring local pharma firm Pymepharco.
Đổi trò chơiMeanwhile, the dynamism of the Vietnamese M&A sector continues to attract big investments led by mega companies mainly from Japan, South Korea, Thailand, and Singapore.
Đổi trò chơiIn the first nine months of 2020, 19 Japanese tie-ups with Vietnamese businesses have dominated the headlines, highlighting keen Japanese interest in real estate, construction, finance-banking, and pharmaceutical landscapes. For example, Mitsubishi Corporation and Nomura Real Estate acquired 80 per cent in phase 2 of Vinhomes' Grand Park project.
South Korean investors are also placing their focus on an array of domestic lucrative fields. SK Investment III, a subsidiary of South Korea's third-largest conglomerate SK Group, has become a large shareholder of Imexpharm, adding to its considerable portfolio of shares in Vingroup, Masan, and PV Oil. Lotte Chemical has also acquired Vina Polytech to realise its vision of becoming the seventh-largest chemical company in the world.
Đổi trò chơiIn another case, Thailand's Stark Corporation has purchased 100 per cent equity in Thinh Phat Cables JSC and Dong Viet Non-Ferrous & Plastic JSC for $240 million.
MAF Research cited that the deal between Danh Khoi Group acquiring a subsidiary of Japan's Sun Frontier Fudousan is the single-highest recent deal in the property sector by value. After reaching agreement at $920 million, Danh Khoi is now investor of the Sun Frontier project in the central city of Danang.
German investors discover Vietnamese startups and tourism scene
German investors will inject more than $300 million into Vietnamese digital startups and tourism, $100 million of which will be poured in a venture fund for digital startups.
Đổi trò chơiA business delegation led by former German Vice-Chancellor Philipp Rösler arrived in Hanoi on November 22 to look into digital startups and the production of personal protective equipment (PPE) in Vietnam.
Đổi trò chơiThe delegation includes a dozen distinguished entrepreneurs and investors from Germany, Switzerland, and Israel will be received by Prime Minister Nguyen Xuan Phuc and representatives of the ministries of Health, Industry and Trade, Planning and Investment, Information and Communication, and Natural Resources and Environment during their one-week stay in the capital.
Rösler, who left German politics and settled down in Switzerland in 2014, has recently launched his own consulting firm Consessor AG to "advise and support" companies in the German-speaking area in their expansion strategy into Southeast Asia, chiefly Vietnam – his birthplace.
"The investors are fascinated by the startup environment and dynamics in Vietnam," said the former Federal Minister of Economics and Technology of Germany while revealing an investor has decided to establish a $100 million venture fund dedicated exclusively to Vietnam's digital startups.
They are expected to see some candidates of the approximately 260 participating companies at the national festival for innovative startups (TechFest Vietnam 2020) scheduled over this weekend in Hanoi.
Đổi trò chơi"Seeing Vietnam's huge tourism potential, a prominent investor has decided to put another $210 million to build a 542-room hotel and condominium complex along a southern sandy beach of the country," Rösler added.
Rösler also said that investors are particularly interested in healthcare equipment production in Vietnam.
Đổi trò chơi"The excellent management of the COVID-19 crisis by the Vietnamese government has improved the country's investment environment significantly in the last months. At the same time, Vietnam has manufactured high-quality surgical instruments and distributed them across the world. That helps position Vietnam as an ideal location for the production of personal protective equipment (PPE) amid the worldwide health crisis," said Rösler.
It is known that at least two German companies joining the delegation want to set up PPE manufacturing in Vietnam.
Huge efforts
Đổi trò chơiThe arrival of the high-profile investors during a second wave of the coronavirus raging across the world signifies a strong desire and tremendous efforts from both sides.
Đổi trò chơiDr. Le Linh Lan, Vietnam's Ambassador to Switzerland, said that her Bern-based mission, the Office of the Government and a number of ministries in Hanoi were working closely for nearly three months to arrange this trip, which was rescheduled several times due to complicated developments of the COVID-19 situation.
As Vietnam imposes strict measures on overseas arrivals to prevent the spread of coronavirus into local communities, the delegation is very cooperative and will follow all guidelines and requirements, said the ambassador.
Đổi trò chơiIn Doha, State of Qatar, Rösler and the Swiss delegates were joined by other members of the delegation for the flight QR8954 to Hanoi early on Sunday.
Đổi trò chơiAfter Hanoi, the delegation will fly to Ho Chi Minh City where the German House (Deutsches Haus) is still celebrating the 45th anniversary of the Vietnam-Germany diplomatic relations, before leaving on November 29.
Lenders utilise varied approach in FOL adjustments
Vietnamese banks are demonstrating their eagerness to tie the knot with international investors, with the expectation that cash injections will help grow the finance and banking segment on a longer timescale.
Earlier this month the Vietnam Securities Depository adjusted the foreign ownership limit (FOL) of shares in Military Bank (MB) from 22.9908 per cent to 23.0224 per cent. Among foreign shareholders, Dragon Capital's two-member funds are the largest shareholder of MB – Norges Bank and Amersham Industries Ltd., with ownership ratio of 1.68 and 1.44 per cent respectively. The FOL in Vietnamese banking is currently capped at 30 per cent. Meanwhile Viet Capital Bank outlined its strategy to raise capital to consolidate financial capacity. The bank is reportedly deciding on its foreign cap, which will be in line with State Bank of Vietnam (SBV) regulations.
Newly-listed lender LienVietPostBank also raised its FOL from 5.5 to nearly 10 per cent. SHB, VIB, and ACB are moving focus from the capital city's exchange to its southern counterpart, while OCB reaffirmed intentions to access a large pool of funds via its upcoming initial public offering (IPO) on the Ho Chi Minh City bourse.
The movements are envisaged to put ACB, SHB, OCB, and VIB on the radar of more high-profile investors, as the city's stock exchange is set to attract more deep-pocketed and large institutional investors.
"Even before going public, VIB has received much attention from foreign suitors directly through our future capital increase. Their enthusiasm proves our strong showing in managing credit and retail businesses," said Han Ngoc Vu, CEO of VIB. "To date, we haven't outlined any plans yet but if the SBV allows us to raise the FOL, we will diversify our funding sources from overseas funds."
Nam A Bank, after filing for an IPO on the Unlisted Public Company Market (UPCoM) in October, has also expressed its eagerness to work with overseas investors by lifting the FOL to 30 per cent.
Đổi trò chơiKyle Kelhofer, country manager for Vietnam, Cambodia, and Laos at the International Finance Corporation said, "We would like to see local authorities lift the cap in order to lure more overseas, high-quality funds. The foreign 'room' between 30 and 50 per cent would bring additional capital, and also help transfer international expertise to strengthen the domestic banking landscape."
Last year, BIDV successfully completed the sale of 603.3 million shares, equal to 15 per cent of BIDV's post-deal capital, via a private placement in South Korea's KEB Hana Bank. Both banks' strategic cooperation makes BIDV the lender with largest market capitalisation in the country, outpacing state-run peers VietinBank, Vietcombank, and Agribank. The deal, worth approximately $872 million, has also strengthened BIDV's balance sheet and previously weak capital adequacy, allowing the bank to meet Basel II's minimum capital requirements.
However, a few banks are adapting a more cautious approach regarding foreign ratio. They have actively lowered the FOL so as to reserve more opportunities for strategic partners when the economy shows signs of recovery.
Đổi trò chơiIn May, VPBank's board requested approval from its shareholders to lower the FOL to 15 per cent from 22.77 per cent, while HDBank recently confirmed a decision to lock the FOL at 21.5 per cent with the goal of expediting plans with strategic partners.
Đổi trò chơiVinaCapital's chief economist Michael Kokalari explained to VIR, "Banks want to put aside shares for potential strategic investors and/or for the issuance of convertible bonds that will be sold to foreign investors at some point in the future."
He added that it is beneficial for banks to have autonomy in deciding their FOL, without which banks' ability to raise foreign investment would be impaired – which would in-turn limit ability to grow and supply credit to Vietnam's economy. "Notwithstanding, there are cases in which banks lower their FOL to below 30 per cent for a prolonged period, without completing the sale of a strategic stake. This leads to a situation in which the price of that banks' stock is below those of other comparable banks that still have foreign room available," Kokalari said.
Over 817,000 establishments participate in rural trades
Đổi trò chơiMore than 817,000 production establishments have participated in rural trades as of 2020, an increase of 119,000 compared to the previous three years, Director of the Department of Cooperatives and Rural Development Le Duc Thinh has said.
Đổi trò chơiThinh made the statement at a conference held by the Ministry of Agriculture and Rural Development (MARD) in Hanoi on November 23 to review the two-year implementation of the Government's Decree No. 52/2018/ND-CP on the development of rural trades.
The total number of workers in this area has climbed to more than 2.3 million, 300,000 more than the 2017 figure (up 15%), he said.
Thinh stated that the total revenue from activities of rural trades has reached VND236.2 trillion (US$10.14 billion), up 20.5% or VND40 trillion compared to 2017, with the industries of pottery, rattan, glass, textile, fibre, embroidery, knitting, small-scale mechanics, and sculpture registering the highest value.
In the time ahead, the MARD will continue to review and evaluate the reality of rural trades and craft villages to complete the development of a project on the conservation and development of craft villages in the 2021-2025 period and submit it to the Prime Minister for approval.
According to the ministry, localities need to review land and shift crops to develop stable concentrated material areas, while accelerating the application of science and technology in production to improve productivity, quality and diversification.
Đổi trò chơiIn addition, trade promotion should be promoted for products of rural industries and craft villages under the national trade promotion programme, the trade-tourism promotion programmes of localities and the 'One Commune One Product (OCOP)' programme.
Vietnam - Israel hold B2B matching webinar on consumer products
Đổi trò chơiThe Vietnam - Israel B2B matching webinar on consumer products 2020 was organised on November 23, featuring the participation of over 20 top Israeli importers.
Đổi trò chơiAs an activity to implement the National Trade Promotion Programme in 2020, the event was organised by the Vietnam Trade Promotion Agency (VIETRADE), the Asia - Africa Market Department (Ministry of Industry and Trade), the Trade Office - Vietnam Embassy in Israel and the Federation of Israeli Chambers of Commerce (FICC) to support Vietnamese businesses in searching for opportunities to export their consumer products to the Israeli market.
According to the initiative of the Trade Office - Vietnam Embassy in Israel, the event aims to widely promote the potentials and strengths of Vietnam's exports in the fields of agricultural products, food, footwear, textiles and garments, and various types of consumer goods to the Israeli market; while at the same time, connecting Vietnam's manufacturing and exporting enterprises with potential import, distribution, wholesale and retail partners in the Israeli market on the online environment, in the context of domestic enterprises facing many difficulties in promoting trade with foreign markets in general and the Israeli market in particular because of COVID-19 translation.
The event was attended by the Vietnamese Ambassador Extraordinary and Plenipotentiary Ambassador to Israel Do Minh Hung, Vietnamese trade counsellor to Israel Le Thai Hoa, Director International Trade Relations Division at the FICC Ze'ev Lavie, Director General of Vietnam Trade Promotion Agency Vu Ba Phu, Deputy Chairman of Vietnam Coconut Association Cao Ba Dang Khoa and Chairman of the Vietnam Pepper Association, along with representatives of related Israeli agencies and organisations.
Đổi trò chơiThe conference included Plenary Session and Private Trade Sessions, online connecting between Vietnamese businesses and each potential Israeli importer by commodity category. At the Plenary Session, agencies and businesses learned about the prospects of Vietnamese consumer products business cooperation in the Israeli market and the strengths of Vietnam's consumer product export industries, especially pepper and coconut products - two of the many commodity groups of Vietnam that many Israeli importers are interested in.
Vietnam remains world leading exporter of cashew nuts
Despite serious impacts from the COVID-19 pandemic, Vietnam exported over 422,000 tonnes of cashew kernels in the first 10 months of this year, up 12% over the same period in 2019, meeting 94% of the set plan for 2020.
The information was released at a ceremony held in Ho Chi Minh City on November 23 to mark the 30th anniversary of the Vietnam Cashew Association (Vinacas).
According to Vinacas, after the establishment of Vinacas in 1990, Vietnam began to export cashew kernels with a volume of 286 tonnes, worth US$1.4 million. In 2004, Vietnam exported more than 105,000 tonnes of cashew kernels worth approximately US$436 million.
Đổi trò chơiVietnam surpassed India for the first time in 2006 to become the world leading exporter of cashew kernels, with an export volume of 127,000 tonnes worth US$504 million.
Đổi trò chơiSince 2017, Vietnam has become the number one hub of cashew processing and export in the world, accounting for over 50% of processed raw cashews in the world.
Vietnam expects to export 450,000 tonnes of cashew kernels in the whole of 2020 with a total value of US$3.28 billion.
According to Chairman of Vinacas Pham Van Cong, the biggest advantage of the Vietnamese cashew industry is the world's most advanced processing technology produced by Vietnamese people which has been constantly improved and innovated, helping boost the impressive growth of the Vietnamese cashew industry.
Although standing as the world's leading cashew exporter, Vietnam is only known for its No. 1 position in preliminarily processed cashews with low prices while almost all cashew enterprises are small and micro enterprises.
Ministry wants environment tax on aviation fuel to stay low until late 2021
Đổi trò chơiThe Ministry of Finance has proposed maintaining the lowered environmental protection tax on aviation fuel at VND2,100 per liter until the end of 2021 instead of late 2020 to support local air carriers.
If the proposal is passed, the tax on flight fuel will return to normal at VND3,000 per liter from January 1, 2022.
Đổi trò chơiThe local aviation market will gradually recover this year and next year, but will still face multiple challenges, according to the ministry.
Đổi trò chơiThe aviation industry has been hit hard due to a sharp drop in the number of passengers and flights due to the coronavirus pandemic.
Đổi trò chơiAt the end of 2020, Vietnam Airlines is expected to see the number of flights and passengers dip 32,700 and 5.67 million, respectively.
Đổi trò chơiMeanwhile, local airlines are burdened with fixed service costs, including aircraft leasing costs, parking fees and other charges, to maintain their operations.
Vietnam Airlines must pay aircraft leasing costs at US$30 million per month, while the monthly cost shouldered by Vietjet stands at US$20 million. The monthly parking fees paid by Vietnam Airlines, Vietjet Air and Bamboo Airways are VND6 billion, VND3.6 billion and VND1.24 billion, respectively.
These costs may affect the performance of local carriers, especially Vietnam Airlines, which is expected to lose VND49.3 trillion.
The proposal to continue cutting the environmental protection tax on flight fuel will help ease the burden on local airlines, said the Ministry of Finance.
Đổi trò chơiEarlier, the National Assembly Standing Committee gave the green light to cut the environmental protection tax on flight fuel from VND3,000 to VND2,100 per liter until late 2020 to help eliminate the difficulties facing local airlines due to the coronavirus pandemic.
Vietnam prepares to welcome international tourists
Vietnam is preparing to welcome international tourists in the coming months, Ha Van Sieu, deputy head of the Vietnam National Administration of Tourism, told a tourism promotion event on Phu Quoc Island on November 22.
Speaking at the event, co-organized by the administration, the Kien Giang Department of Tourism and Phu Quoc Tourism Development and Investment Association, Sieu said that apart from preparing for foreign tourist arrivals, the country will continue to launch various tourism promotion activities and introduce safe tourist destinations to domestic visitors.
The island district of Phu Quoc off Kien Giang Province was selected as the first tourist site in Vietnam to organize a domestic tourism promotion program.
Đổi trò chơiWith the participation of multiple key opinion leaders (KOLs), the event was expected to attract more Vietnamese travelers to the island for the rest of the year.
Đổi trò chơiThe event, part of the domestic tourism promotion program themed "Safe and Attractive Travel in Vietnam" is aimed at giving a boost to Phu Quoc Island's tourism growth during the hardship caused by the coronavirus pandemic.
Đổi trò chơiTran Chi Dung, director of the provincial Department of Tourism, told the event that Phu Quoc Island welcomed some three million visitors between January and October despite the impact of the pandemic.
Đổi trò chơiFrom now until the end of the year, the number of visitors to the island is expected to surge due to good weather and efficiency in Covid-19 infection prevention and control, coupled with the rising tourism demand.
Enterprises need to go green to maintain export
To limit the depletion of natural resources, environmental pollution, and the amount of generated waste, many countries around the world have introduced several trade barriers in order to realize a circular economy. Of which, many countries are currently the main export markets of Vietnam. This has forced Vietnamese enterprises to change to adapt and maintain export market share. 
Đổi trò chơiMr. Vu Duc Giang, Chairman of the Vietnam Textile and Apparel Association (Vitas), said that in the past three years, the association has urgently carried out green and environmentally friendly production models for member enterprises. Accordingly, enterprises must reduce generated waste, change habits, and upgrade technologies from using fossil fuels to bioenergy and renewable energy.
Vitas has collaborated with the World Wide Fund for Nature (WWF) to implement the project "Greening Vietnam's textile industry through improving water management and sustainable energy". This project promotes the improvement of water quality and the use of sustainable energy. At the same time, more support is given to industrial zones in accessing the green credit package to invest in industrial zones exclusive to the garment and textile industry.
Earlier, the association of the wood industry also signed a commitment to promote the development of the wood industry towards sustainable development, resolutely not using illegal sources of wood. At the same time, the Green Vietnam Fund was officially launched.
Mr. Do Xuan Lap, Chairman of Vietnam Timber and Forest Products Association (Viforest), shared that the average wood export turnover reached US$12.5 billion per year. Most of the main export markets of the wood industry are the US, Europe, and Japan.
Đổi trò chơiThese markets all have strict regulations on the origin and legality of wood. Consumers in these markets do not accept wood products originating from natural forests, especially tropical and precious wood species. This is also how these countries comply with the regulations relating to circular economic development. Therefore, to maintain export market share, domestic enterprises must meet the requirement that wood material is harvested from plantation forests.
Đổi trò chơiFrom another perspective, the green commitment also aims to fully implement international commitments signed by the Government of Vietnam involving sustainable development, green growth, climate change adaptation, environmental protection, and conservation of biodiversity, including the Convention on International Trade in Endangered Species (CITES) and the Voluntary Partnership Agreement on Forest Law Enforcement, Governance, and Trade (VPA / FLEGT).
Đổi trò chơiRegarding this field, Ms. Hoang Thi Thanh Nga of WWF said that these are just two of Vietnam's manufacturing industries that must comply with the commitment to environmental protection and social responsibility towards a circular economy with zero waste and no environmental pollution.
According to the results of a survey by the Ministry of Natural Resources and Environment, economic development in recent years has led to many consequences for the environment. This not only affects the export market share of enterprises but also directly affects the quality of life of people. Currently, up to 80 percent of fresh water in the river and canal network is polluted seriously.
In rivers, which are the sources of water for daily life for tens of millions of people, namely the Red, Dong Nai, Saigon, and Huong rivers, many harmful substances have exceeded the permissible limit. The amount of solid waste is also constantly increasing while the treatment technology is outdated. On average, each year, the environment in Vietnam receives about 12 million tons of domestic waste. The amount of waste climbs by 10-15 percent annually. In a megalopolis like HCMC, an average of 9,000 tons of domestic waste is received every day, and the annual growth rate is 12 percent.
Đổi trò chơiVietnam is currently in the top ten countries generating the highest amount of plastic waste to the environment. The application of circular economy not only reduces generated waste but also helps to convert waste into a source of raw materials for production, ending the situation of discharging waste into the environment. And to do this, it does not only rely on authorities in increasing the infrastructure to receive and treat generated waste in general, but the production stage of enterprises and people's daily life also need to apply measures of the circular economy.
As for the Government, it is essential to facilitate and establish regulations to promote cooperation. The plastic waste management system roadmap in particular and waste, in general, should have a specific framework and clear process. Authorities need to proactively tackle issues throughout the value chain, from modifying the tax structure to offering tax privileges to recycling and waste management enterprises. Technology should be applied to manage resources to maximize efficiency and minimize material waste. Moreover, tax privileges can be introduced to encourage manufacturers to switch to using environmentally friendly or recycled materials in their production and business activities, Mr. Roongrote Rangsiyopash, President cum CEO of SCG Group, stressed.
A circular economy is an economic model in which design, production, and service activities aim to prolong the life of materials and eliminate negative impacts on the environment. Circular systems apply the reuse process through sharing, repair, refurbishment, remanufacturing, and recycling to create close-loops for resources, to minimize the volume of input resources used and the amount of waste generated, as well as environmental pollution and gas emissions.
Source: VNA/VNN/VNS/SGGP/VOV/NDO/Dtinews/SGT/VIR