'The Marching Song', the national anthem of Vietnam composed by musician Van Cao, is featured on a music box by Reuge, a leading global manufacturer of traditional musical devices.
Named 'Reuge Vietnam Nation Anthem', the traditional mechanical music box is being made as Vietnam celebrates the 75th anniversary of its National Day (1945-2020).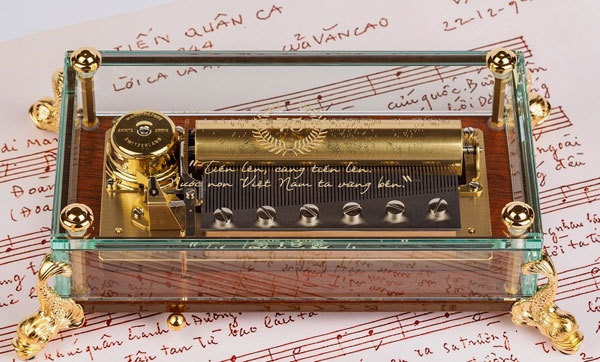 Vietnam' national anthem featured on Swiss music box.
With dimensions of 350 x 250 x 160 mm, the elegant box is made from gilt dolphin feet with polished glass panels. It combines an aesthetically appealing design with 72 handcrafted notes and these can easily be admired through the glass panels.
Vietnam is one of a few countries whose national anthems is featured on Reuge musical boxes.
A representative from Reuge said that the music was initially designed with 32 notes of 'The Marching Song', but the manufacturer decided to increase this to 72 notes in order to fully deliver the song's spirit.
Đổi trò chơiIt took the Swiss artisans up to eight months of testing and calibration on the music box in order for it to produce the best possible sound. All manufacturing steps were done manually.
The 'Reuge Vietnam Nation Anthem' music box is worth up to VND80 million (US$3,465). Although it is not a limited edition, it is only made upon request and only 20 to 30 music boxes of this kind are produced by Reuge every year.  Nhan Dan

A collection of portraits of 51 well-known 20th century Vietnamese artists and intellectuals will be on display at Mai House Saigon on October 28.