Đổi trò chơiSurveys all show that the living conditions of many Vietnamese have become worse because of Covid-19. However, economists are not recommending a second support package.
Weak recovery
Đổi trò chơiThe World Bank (WB) has conducted surveys on the impact of Covid-19 on families in Vietnam. They sought information about family incomes, job status and the ability to access government support.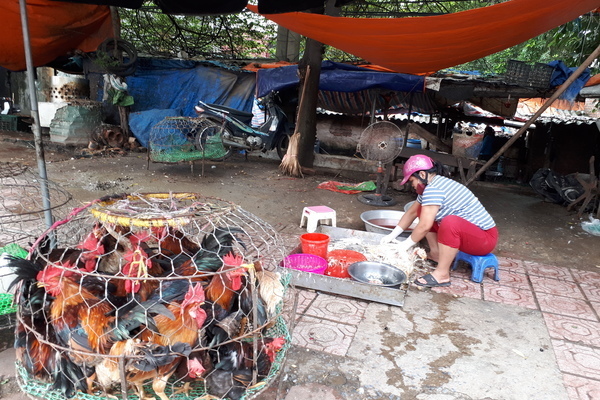 Đổi trò chơiDuring the second survey, WB carried out interviews via phones with nearly 4,000 households throughout the country from July 27 to August 12, which coincided with the second Covid-19 breakout.
WB found that one third of households had incomes lower than the previous month. Meanwhile, the figure was 70 percent in the previous survey, which indicates that Vietnam's economy has shown signs of recovery.
Đổi trò chơiHowever, though the number of families with lower income decreased, the living conditions of more than half of families were still lower compared with 2019.
More than half of families said their incomes decreased in the previous month compared with the same period last year.
The existence of some households that still have lower living conditions despite economic recovery showed that some elements of the economy bear a bigger impact from the pandemic.
Nearly all business households said their incomes had declined compared with 2019.
Đổi trò chơiAccording to WB, most household-run businesses still operate but some face difficulties. The number of household businesses which stopped operation also increased during the second-round survey (June/July).
The number of operational businesses decreased from 95 percent in May/June (first round) to 90 percent in June/July.
Some analysts warned that many businesses that are temporarily suspending operation may shut down permanently.
There was no considerable difference in the proportion of household businesses between regions, business fields or positions (rural or urban). However, the household businesses with larger scale and higher numbers of employees are likely to continue operation.
The government launched the first economic support package in March/April. However, the implementation of the policy has been going slowly, which explains why the effect of the package on people and businesses remains modest.
WB pointed out that the people's capability of accessing support packages is low. Of 13 percent of households applying for support in February, only 2.3 percent received support in July/August.

The government launched the first economic support package in March/April. However, the implementation of the policy has been going slowly, which explains why the effect of the package on people and businesses remains modest.
Meanwhile, a large-scale survey by the General Statistics Office (GSO) found that less than 18 percent of businesses accessed the support package.
Second support package needed?
The Vietnam Institute for Economic and Policy Research (VEPR), in its Q3 macroeconomic report, said that the number of businesses enjoying support was inconsiderable, because many businesses fulfilled their tax duties before the decision on the payment extension was released.
Meanwhile, many businesses complain that they have to fulfill costly and complicated procedures to be able to access the support source.
Đổi trò chơiVEPR Chief Economist Pham The Anh stressed that social security policies still need to be put as a top priority, and the support needs to be delivered quickly and to the appropriate subjects before people fall into tragedy.
Đổi trò chơiAnh went on to say that when implementing the policies, it is necessary to pay higher attention to workers in the non-official sector as they account for a large proportion of workers, most of whom are vulnerable, and are affected most in the crisis and have difficulty accessing support.
Meanwhile, policies on supporting businesses also need to be implemented quickly and should be addressed to the appropriate subjects to satisfy the needs of businesses.
While affirming that many people are still in difficulty because of Covid-19, Anh said that the government does not need to launch a second support package.
Đổi trò chơiHe said that if the first package has not been fully disbursed, another package is not necessary at this moment. The second package, if launched, will only weigh on the state budget rather than creating positive influences in the economy and society.
Vo Tri Thanh, a respected economist, disagreed with Anh. Thanh said at the 2021 Economic Forum held some days ago that in the context of the Covid-19 recurrence in the summer, Vietnam needs to launch new economic stimulus policies, including the second support package.
"The most important thing is that the packages must be implemented in a quick and transparent way," Thanh said.
Đổi trò chơiHe said Vietnam needs to accept a budget deficit and higher public debts in exchange for businesses' recovering from difficulties.
Đổi trò chơiThanh said the second package needs to be associated with economic reshuffling and catch up with development trends (technology, digital transformation, labor skills and new consumption habits).
The aim of the package is to minimize difficulties for enterprises and create a premise for businesses to continue to develop sustainably.
Đổi trò chơiHowever, while affirming that the government's support plays a very important role in recovering the economy, Thanh said the efforts by businesses themselves will play the decisive role.
"This is an opportunity to challenge the Vietnamese staff," Thanh said. 
Ha Duy

Đổi trò chơiThe Ministry of Health on November 30 convened an urgent meeting with relevant agencies, and Ho Chi Minh City Health Department representatives to direct the swift implementation of all epidemic prevention measures

Đổi trò chơiThe taxation body needs to 'nurture sources of revenue' rather than bleed businesses dry, businesspeople say.