Ministry seeks ideas on Mekong Delta master plan
The Ministry of Planning and Investment, in coordination with the World Bank, held a conference on November 26 to seek ideas and consultations from leaders of Mekong Delta localities, experts and scientists for the delta's Integrated Regional Master Plan in 2021-2030 with a vision to 2050.
The draft master plan tabled for discussion is the first regional planning scheme built based on a multi-sectoral integrated approach under the Law on Planning. This is the last consultation conference held on the draft plan before the ministry completes it and submits to the Government for approval.
Addressing the event, Minister of Planning and Investment Nguyen Chi Dung stressed the importance of the master plan, as it will be the basis for building many other development plans for the region.
Đổi trò chơiIn the context of limited State budget resources and great demand for infrastructure, the making of investment decisions should be based on the regional plan and the principle of "No-regret", the minister said.
Đổi trò chơiIn her remarks, the WB Country Director Carolyn Turk noted that the Mekong Delta is vulnerable to climate change and rising sea level. To cope with those trends, it is necessary to build new plans based on difference climate change scenarios for the region and select suitable directions for investment following the principle of "low-regret" and "no regret", she said.
In the opinion of Nguyen Huu Thien, an expert on Mekong ecology and environment, the Mekong Delta master plan should apply "no-regret" measures which have low risks and side effects, and can be corrected if necessary.
Đổi trò chơiHe recommended several priorities for the Mekong Delta, one of which is to transform its agriculture in the direction of reducing quantity and increasing quality and processing as well as value chains. It is also necessary to address sinking, reduce the use of ground water, and restore rivers. He added that non-structural measures should be prioritized.
The three policies, which are Resolution 120/NQ-CP, the 2017 Law on Planning and the Prime Minister's Decision 593/QD-TTg will bring a golden chance for the Mekong Delta, especially if Resolution 120/NQ-CP is correctly implemented, many problems faced by the delta will be solved, Thien said./.
Helmets presented to students in Thai Nguyen
The Asia Injury Prevention Foundation (AIP) and the Traffic Safety Committee of the northern Thai Nguyen province held a ceremony on November 25 to launch a "Helmet for Children" project for the 2020-2021 academic year.
Carried out by the AIP and the Johnson & Johnson Foundation, the project aims to present helmets to children in Thai Nguyen and raise awareness of laws on traffic safety and order among students, teachers and parents.
Thai Nguyen has over 120,000 pupils at primary level. During the 2018-2019 school year, about 4,000 helmets were handed over to students at eight primary schools, contributing to raising the rate of helmet-wearing primary students to over 90 percent from 15-20 percent.
During the 2020-2021 academic year, the project will grant more than 1,100 helmets to students at Giang Tien, Yen Do 1 and Yen Ninh primary schools in Phu Luong district.
Đổi trò chơiOn the occasion, students were also instructed how to wear helmets properly and joined extracurricular activities related to traffic safety theme./.
Vietnam-Cuba solidarity model for int'l relations: diplomat
The Vietnam-Cuba solidarity is considered a model for international relations, Cuban Ambassador to Vietnam Lianys Torres Rivera has told Vietnam News Agency.
She said that historical backgrounds and mutual support at every time have formed the special relationship between the two countries, with them setting up diplomatic ties on December 2, 1960.
Đổi trò chơiVietnam always backs Cuba in the struggle against economic and trade embargo imposed by the US over nearly 60 years, and Party General Secretary and State President Nguyen Phu Trong called for the removal of unilateral sanctions that hinder countries' development, especially the besiege and embargo against Cuba, at the UN General Assembly's recent 75th session, she highlighted.
Based on the special political ties, the Cuban diplomat suggested expanding bilateral cooperation to economics and trade.
Đổi trò chơiAccording to her, both sides also hold great potential for cooperation in tourism, pharmaceuticals, culture, agriculture, food industry and energy.
Cuba is willing to assist the Vietnamese business community in seeking collaboration opportunities in its market and carry out investment projects.
She went on to say that the Cuban Government is continuously improving its business environment, with the focus on completing legal mechanisms to attract more foreign investments, including the establishment of the single-window mechanism for investors.
With the Vietnam-Cuba Free Trade Agreement becoming effective in April, both countries are expecting 500 million USD in two-way trade turnover by 2025, she added./.
Ministry of Foreign Affairs seeks OVs' opinions on national development
The Ministry of Foreign Affairs hosted a meeting in Hanoi on November 26 to seek overseas Vietnamese (OV)'s opinions about the results of the five-year implementation of the Politburo's Directive No. 45/CT-TW and how to develop the country in the new context.
The event was attended by around 200 delegates, including a number of outstanding Vietnamese expats who are currently in Vietnam. It provided a platform for the community of overseas Vietnamese and governmental organizations to engage in dialogues and mobilize their strengths in developing the nation.
In his remarks at the meeting, Deputy Minister of Foreign Affairs and Chairman of the State Committee for Overseas Vietnamese Dang Minh Khoi said after five years of implementing the directive, Vietnam has seen considerable progress in affairs regarding overseas Vietnamese.
There has been an increasing number of Vietnamese living overseas who have contributed greatly to the process of national development, he said.
Đổi trò chơiKhoi noted that the Party and State respect and highly appreciate such valuable contributions and expect the overseas Vietnamese community will continue playing a part in developing the country.
Đổi trò chơiHe also outlined several shortcomings in the directive's implementation, notably delays in the enforcement of a number of policies and legal provisions regarding overseas Vietnamese people, limitations in Vietnamese language courses and external information services, and non-diverse cultural programmes for these people.
Đổi trò chơiThe deputy minister called for concerted efforts from all Vietnamese people, including those living overseas, to seize opportunities and tackle challenges for the country to fulfill its development goals.
Đổi trò chơiThe Directive No. 45/CT-TW was issued by the Politburo in 2015 to enhance the implementation of its 2004 resolution on affairs related to overseas Vietnamese.
UK to help Vietnam fight against antimicrobial resistance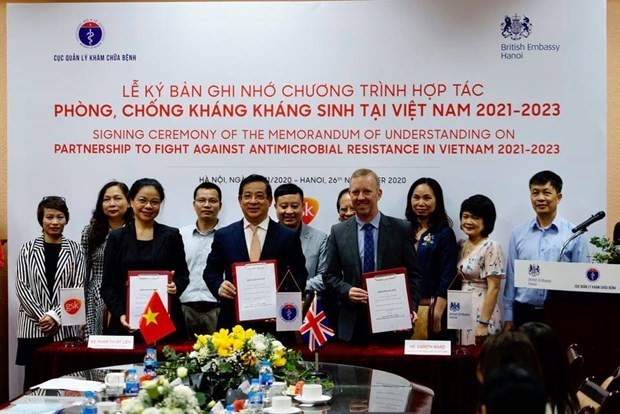 The 2021-2023 Partnership to fight against AMR in Vietnam between the Vietnamese Ministry of Health (MoH)'s Medical Service Administration, the British Embassy in Vietnam and the Representative Office of GSK Pte Ltd in Vietnam is signed on November 26.

Đổi trò chơiVietnam and the United Kingdom will cooperate in fighting against antimicrobial resistance (AMR) in Vietnam over the next three years, according to a Memorandum of Understanding signed in Hanoi on November 26.
The 2021-2023 Partnership to fight against AMR in Vietnam between the Vietnamese Ministry of Health (MoH)'s Medical Service Administration, the British Embassy in Vietnam and the Representative Office of GSK Pte Ltd in Vietnam was signed on the occasion of the World Antibiotic Awareness Week.
This healthcare partnership aims to support the Vietnamese government's long-term strategy articulated in the "National Action Plan on AMR", and aligns with the initiatives of the UK Government to support developing countries in solving the AMR problem.
"The National Action Plan on Antimicrobial Resistance for the 2013-2020 period and development of a strategy for the next five years are among the most important focuses of the health sector," said Assoc. Prof. Luong Ngoc Khue, Director of the Medical Service Administration and Deputy Head of the MoH's Vietnam National Steering Committee for AMR.
Đổi trò chơi"With the companionship of the UK Government and companies in the health sector such as GSK, the fight against AMR in Vietnam will be approached in a more comprehensive way. Ongoing medical training programmes for healthcare professionals and awareness raising support, community education are also planned to improve the effectiveness of fighting against this medical burden", he said.
British Ambassador to Vietnam Gareth Ward said: "The UK is committed to working with Vietnam on tackling health issues like AMR and we have raised the level of ambition within our strategic partnership agreement."
"Antimicrobial resistance is becoming a global health crisis and we need to increase our collective efforts to address this challenge in order to secure the health and wellbeing of our future generations."
AMR is one of the world's most critical healthcare challenges. It is caused by the inappropriate use of medicines, for example using antibiotics for viral infections such as cold or flu, or sharing antibiotics; low-quality medicines, wrong prescriptions and poor infection prevention and control also encourage the development and spread of drug resistance. It is estimated that by 2050, the number of people dying from antimicrobial resistance could reach 10 million.
In Vietnam, the rate of AMR is among the highest in Asia, causing thousands of deaths annually./.
Run for the Heart race comes back virtually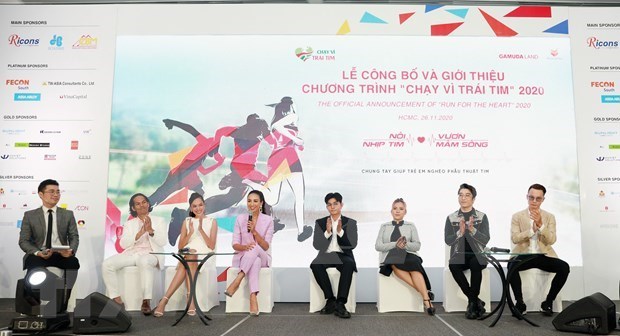 At the lauching ceremony of the event
Đổi trò chơiThe 8th Run for the Heart race, an annual event to support disadvantaged children with congenital heart diseases, is taking place virtually, meaning it can reach runners from across the nation.
Đổi trò chơiThe race is an initiative of Gamuda Land Vietnam and Heartbeat Vietnam - a health care programme of VinaCapital Foundation.
Đổi trò chơiLaunched on November 27, the event is the result of a partnership between its organisers and Vietrace365, one of the most popular online virtual race platforms for the running community in Vietnam, which offers race courses nationwide.
Đổi trò chơiTo join, a racer need to register and pay an entry fee worth 150,000 VND (6.48 USD), which will be donated to help children with heart diseases. The participant then can run anytime anywhere and record the activity on a mobile app, with the results updated automatically. After completing a minimum of 30km, he receives one sport T-shirt and a medal.
A highlight of the race this year is fundraising through a series of mini gameshows broadcast live on its official communication channels, which will be joined by a large number of celebrities.
The event is open for donation until January 7 in 2021.
Further information can be found at: http://vinacapitalfoundation.org/en/news/official-launch-of-run-for-the-heart-2020-with-gamuda-land-hcmc/
The race has completed its seven consecutive editions since 2013, raising more than 32 billion VND (1.38 million USD) and helping over 1,200 children nationwide receive free heart surgery./.
Conference seeks to prevent school and online bullying in ASEAN
A meeting on bullying at school and online in ASEAN was held on November 26 by the Ministry of Labour, Invalids and Social Affairs (MoLISA), the ASEAN Secretariat, and the United Nations Children's Fund (UNICEF).
The online conference saw the participation of representatives from the ASEAN Commission on the Promotion and Protection of the Rights of Women and Children (ACWC), ASEAN specialist bodies working in education, health, information and communications, the ASEAN Secretariat, the UNICEF office in Vietnam, international organisations, and ASEAN partners.
Đổi trò chơiIn her opening address, Deputy Minister of Labour, Invalids and Social Affairs Nguyen Thi Ha said she highly values the cooperation and support of UNICEF, development partners, donors, specialist agencies from ASEAN, and civil and non-governmental organisations for their technical and financial support for activities to promote children's rights in general and to protect them from bullying at school and on the internet in particular.
She suggested strengthening cooperation between ACWC and other specialist agencies within ASEAN, and between ASEAN member countries and other countries around the world, to work towards ending bullying and violence at school and online and creating a suitable environment for children's comprehensive development.
Delegates exchanged views on bullying at school and online around the world and in ASEAN in particular.
Đổi trò chơiThey also shared good practice and made recommendations to relevant ASEAN bodies to address the issue.
The conference is part of the ACWC's working plan in the 2016-2020 period, in the context of the increasing risk to children from bullying at school and online.
Đổi trò chơiACWC was established in Hanoi on April 7, 2010, on the occasion of the 16th ASEAN Summit. It works to promote, protect, respect, and implement the rights of women and children in ASEAN./.
Traffic accidents, deaths, injuries down in 11 months
A total of 12,985 traffic accidents claimed 6,048 lives and injured 9,652 others in the first 11 months of this year, representing significant annual declines of 18.2, 13.2, and 20.5 percent.
Đổi trò chơiAccording to Office Chief of the National Committee for Traffic Safety, Nguyen Trong Thai, 7,345 road accidents during the period left 5,932 dead and 3,921 injured, down 10.3, 13, and 13.6 percent year-on-year, respectively.
Meanwhile, 63 people were killed and 20 injured in 79 railway accidents.
Đổi trò chơiFifty-nine accidents on waterways claimed the lives of 43 people and injured seven others, while ten people were killed in 12 maritime accidents./.
Vietnamese citizens in Singapore brought home
Đổi trò chơiA flight arranged by Vietnamese and Singaporean agencies and operated by Vietjet brought 240 Vietnamese citizens in Singapore back to Vietnam safely on November 25.
Đổi trò chơiThe passengers included the elderly, persons with underlying health problems, and those in other special disadvantaged circumstances.
Đổi trò chơiThe Vietnamese Embassy in Singapore sent staff members to the airport to assist the citizens with boarding procedures.
In-flight safety and preventive measures against the COVID-19 pandemic were rigorously enforced to protect the passengers' health and prevent the spread of the disease.
Đổi trò chơiUpon arrival at the Tan Son Nhat international airport in Ho Chi Minh City, all passengers and crew members received medical check-ups and were sent to quarantine in line with regulations.
The repatriation of Vietnamese citizens in disadvantaged circumstances abroad will continue to be conducted in line with their wishes, the developments of the COVID-19 pandemic, and quarantine capacity in Vietnam./.
PM holds working session with National Defence Academy
Prime Minister Nguyen Xuan Phuc discussed socio-economic issues, national defence and security, and external affairs during a working session with the teaching staff of the National Defence Academy in Hanoi on November 26.
He lauded the army for its role in searching for and rescuing victims during the recent historic floods and for contributing to basically fulfilling the dual goals of fighting COVID-19 and maintaining socio-economic development.
Đổi trò chơiVietnam is currently recording one of the highest growth rates in the world, he said, noting that the national macro-economy is stable, inflation is under control, and trade surplus has surpassed 20 billion USD.
Regarding the 37th ASEAN Summit and Related Meetings, the PM said it was one of the country's most important political-external events and the foremost event during its ASEAN Chairmanship in 2020.
PN Phuc chaired and co-chaired 15 high-level conferences and 10 high-level sideline meetings. The summit adopted over 80 documents; the most so far.
Participants adopted new measures on COVID-19 prevention and control based on initiatives from Vietnam, such as the ASEAN fund for COVID-19 response, a regional reserve of medical supplies, and a comprehensive recovery plan during and after the pandemic.
The summit also approved the ASEAN roadmap to the future and the Hanoi Declaration on the ASEAN Community Vision 2025, with aspirations to lay a solid foundation for regional development.
Đổi trò chơiThe East Sea issue was also mentioned, in regards to peace, stability, law abidance, the guarantee of maritime and aviation freedom, and the full and effective implementation of the Declaration on the Conduct of Parties in the East Sea, towards a practical, effective, and legal Code of Conduct in the East Sea.
In particular, the 10 ASEAN member states and five partner countries signed the Regional Comprehensive Economic Partnership (RCEP), the world's largest free trade deal, covering 2.2 billion people (about 30 percent of the global population) and 30 percent of the world's GDP.
The leader said prioritised targets had been met and even surpassed, thus laying the groundwork for the bloc to continue developing into the future, adding that Vietnam played an important role in all meetings.
He hailed the academy for fulfilling the tasks assigned to it by the Central Military Commission and the Defence Ministry.
Đổi trò chơiHe required the academy to continue fighting wrongful and hostile allegations, especially at a time when important events are to take place, such as the 13th National Party Congress and the election of deputies to the 15th National Assembly.
Towards the 76th anniversary of the Vietnam People's Army and the 31st anniversary of the All-People Defence Festival, the PM affirmed that the Party, State and army will continue with drastic reform to effectively pool and use every resource, creating a new driving force for rapid and sustainable development./.
Conference promotes women's role in UN peacekeeping operations
Đổi trò chơiThe role of women in UN peacekeeping operations was on the agenda at an online conference held by the Ministry of Defence and the UN Development Programme (UNDP) in Vietnam on November 26.
Đổi trò chơiCo-chaired by Deputy Minister of Defence, Sen. Lieut. Gen. Hoang Xuan Chien, and Kamal Malhotra, UN Resident Coordinator and UNDP Resident Representative to Vietnam, the conference aimed to reaffirm Vietnam's strong commitment to issues relating to women, peace, and security, as well as UN peacekeeping activities, and to demonstrate the country's active and proactive efforts in taking on the dual roles of a non-permanent member of the UN Security Council and the ASEAN Chair in 2020.
Đổi trò chơiIn his speech, Chien emphasised that member nations of the UN in general and Southeast Asian countries in particular are making efforts to sustainably increase women's participation in UN peacekeeping missions.
Đổi trò chơiThe country officially joined UN peacekeeping missions in 2014. In January 2018, it sent its first female officer to participate in the UN peacekeeping mission in South Sudan, as a tactical staff officer. In October 2018, it successfully deployed the first Level-Two field hospital to the UN Mission in South Sudan (UNMISS) in Bentiu, with 10 female officers out of the 63 officers, medical staff, and doctors.
Female Vietnamese officers are valued by the UN for their professionalism, ability to complete tasks in UN peacekeeping missions, and diplomacy.
Đổi trò chơiIn the future, the ministry will continue to maintain and consider the possibility of further increasing the proportion of women participants, Chien said.
Discussions at the conference focused on the role played by women in UN peacekeeping activities in the context of the ongoing COVID-19 outbreak, and the disease prevention work at UN peacekeeping missions. They also proposed international initiatives to further promote the role of women in UN peacekeeping operations.
As a preparatory activity for another conference on the role of women in UN peacekeeping activities, to be held in Vietnam next year, this conference offered a chance to strengthen the exchange of expertise and experience between countries regarding the role of women and the response to COVID-19.
It also contributes to strengthening cooperation between countries, the role and position of Vietnam in the region and the world in UN peacekeeping operations, and the fight against COVID-19./.
Top legislator visits Soc Trang province
National Assembly Chairwoman Nguyen Thi Kim Ngan tours the production centre for ST25 fragrant rice in My Xuan district, Soc Trang province
Đổi trò chơiNational Assembly Chairwoman Nguyen Thi Kim Ngan and her entourage were kept busy during a working trip to the Mekong Delta province of Soc Trang on November 26.
Đổi trò chơiThe delegation visited the Tai Kim Anh seafood processing company at the An Nghiep industrial park, which is now employing 2,500 workers and exporting its products to 20 countries and territories worldwide, including those in Europe, Japan, the US, Canada, and the Republic of Korea. Its exports reeled in 78 million USD last year and are projected to hit 90 million USD this year despite the COVID-19 pandemic.
The top legislator lauded the firm's efforts to overcome pandemic-related difficulties, in particular ensuring workers keep their jobs. She expects it will expand production, diversify products, export to more markets, and generate more jobs.
She also toured a production centre for ST25 fragrant rice in My Xuan district. Developed by a group of Soc Trang-based agricultural engineers led by Ho Quang Cua, former deputy director of the provincial Department of Agriculture and Rural Development, the variety won a prize for best rice in the world in 2019 and is now produced in many provinces in the delta, with Bac Lieu, Ca Mau, and Kien Giang joining Soc Trang.
Regarding Cua's aspiration to put ST25 under State management, Ngan said she will make a recommendation on the matter to the Ministry of Agriculture and Rural Development for further submission to the Prime Minister.
Đổi trò chơiThe research needs to be acknowledged, Ngan stressed.
She also asked local authorities to create favourable conditions for scientists to work and make quality products like ST25 and prevent the sale of fake ST25 rice in the market.
Đổi trò chơiThe same day, Ngan visited Heroic Vietnamese Mother Truong Thi Dan and Hero of the People's Armed Forces Major General Le Hoang Suong in Chau Thanh district. She also went to the Som Rong Khmer Pagoda in Soc Trang city's Ward 5./.
Vietnam hosts virtual ASEAN Conference for Young Scientists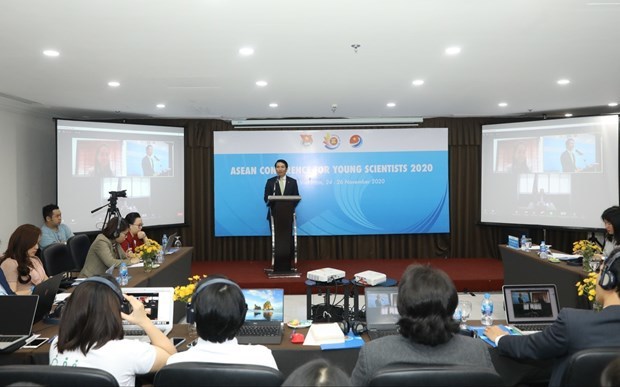 An overview of ASEAN Conference for Young Scientists 2020
Đổi trò chơiThe ASEAN Conference for Young Scientists 2020 is being held via videoconference on October 25-26, under the chair of the Ho Chi Minh Communist Youth Union Central Committee.
Đổi trò chơiThemed "Inspiring creativeness and innovation for a cohesive and responsive ASEAN", the event attracts the participation of both domestic and foreign young experts and scientists.
Participants discussed measures to solve difficulties in the region and build a sustainably developing ASEAN Community.
They took part in a plenary session on creativeness and innovation through initiatives and activities of young ASEAN scientists, and seminars on the new normal state in ASEAN, inspiring creativeness and innovation to overcome the COVID-19 pandemic, building smart cities, and developing infrastructure, medicine and health in the ASEAN Community by 2030./.
Rise in Whitmore's disease cases recorded in Da Nang
Within two recent months, the General Hospital in the Central City of Da Nang received 28 cases of Whitmore's disease including two succumbing to the disease.
Amid heavy flood and storm season, central provinces recorded more cases of Whitmore's disease. From the beginning of the year to September, the General Hospital in Da Nang admitted only 4 cases of Whitmore's disease; however, from October 1 to November 26, 28 people have been diagnosed with the disease in the hospital.
Đổi trò chơiMost patients hail from the central provinces of Quang Nam, Nghe An, Quang Ngai and Da Nang. Two of them with underlying condition succumbed to the disease.
One of patients infected with melioidosis, also called Whitmore's disease, is Duong Van Thanh hailing from Dai Loc District of Quang Nam Province. He remembered that after wading in floodwaters and mud to clean the house after flood for days, he had high fever; therefore, he was rushed to the local hospital where transferred him to the General Hospital in Da Nang for further treatment.
The symptoms of people with Whitmore's disease are fever, headache, cough, shortness of breath, disorientation, and pain in the stomach, muscles or joints.
Đổi trò chơiPeople typically become sick between one and 21 days averagely 9 days after being infected. People with underlying conditions that impair their immune system – such as diabetes, chronic kidney or lung disease, and alcohol use disorder – are more likely to be dead from the infection.
Flooding brings with it long-lasting health effects through exposure to environmental bacterium in mud and polluted surface water, such as melioidosis and leptospirosis.
Medical workers saw a large volume of injuries from people wading in the flood waters and later clean up attempts; therefore, they advised people to avoid contact with flood waters where possible and cleaning and covering any wounds.
In case that people have to contact floodwaters, doctors advised people to you should don plastic or rubber gloves, boots, and other protective clothing to minimize the risk of infection through breaks in the skin while cleaning up after these floods.
Southern island launches zero plastic waste programme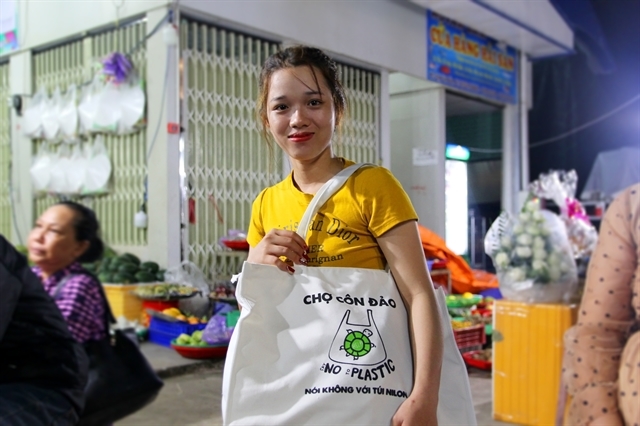 A woman shows a canvas bag as part of a programme to cut plastic bags and single-use plastic products on Côn Đảo Island of southern Bà Rịa-Vũng Tàu Province. — Photo courtesy WWF
Local authorities of Côn Đảo Island District, off the coast of southern Bà Rịa-Vũng Tàu Province, in co-operation with the World Wildlife Fund for Nature (WWF), have launched a Zero Plastic Waste programme, aiming to eliminate single-use plastic products.
WWF said the programme, which involved 74 businesses from the district, aims to raise awareness among local islanders and tourists on reducing plastic bags and single-use plastic from their daily shop.
The programme offers support by providing free environmentally-friendly bags instead of plastic bags from shops.
Bags made from canvas are available at the Côn Đảo market desk.
Đổi trò chơiPhạm Bảo Ân, an official from the island district's nature resources and environment department said the island has contributed 70,000 tonnes of garbage to the Bãi Nhát dump, and has been polluting the environment and beach destinations.
Đổi trò chơiHe said the district and other agencies have been building a database on plastic bag and single-use plastic consumption to find the best solution to limit harmful plastic waste pollution.
Côn Đảo Island, 97 nautical miles off the coast of Vũng Tàu City, is home to 600ha of sea weed beds and 1,000ha of coral reefs.
Its pristine natural landscape has lured tourists to explore Côn Đảo Park and the natural reserve.
Côn Đảo National Park on Côn Đảo Island was recognised as an official member of the Indian Ocean-Southeast Asia (IOSEA), becoming the 11th member of the marine turtles conservation network in a meeting in 2019.
In Việt Nam, only the Chàm Islands – a World Biosphere Reserve site – is the first and most successful site banning the use of plastic bags among local islanders and tourists, while the 'say no to single-use plastic straws and cups' campaign was launched in early 2020.
A garbage sorting programme has been launched by the International Union for Conservation of Nature (IUCN) to reduce plastic waste at 12 Marine Protected Areas nationwide. It will help build a database on plastic waste and offer policy advice on how to reduce and control plastic waste and plastic production.
Đổi trò chơiAccording to Greenhub, an NGO, waste can be found along beaches from northern Quảng Ninh Province to Côn Đảo Island in southern Bà Rịa-Vũng Tàu Province, while plastic waste accounts for 80 per cent of the total solid waste at 30 beaches in Việt Nam.
Contest strengthens disease prevention communication for ethnic small traders
Ethnic minority small traders were provided with knowledge and skills on disease prevention, especially COVID-19, at a contest in the mountainous province of Hà Giang on Wednesday.
The contest was part of a programme on strengthening communication on preventing and fighting the COVID-19 pandemic organised by the Ministry of Health in collaboration with the Việt Nam Women's Union, United Nations Development Program (UNDP) in Việt Nam and the Embassy of Japan in Việt Nam.
Speaking at the event, Deputy Minister of Health Đỗ Xuân Tuyên, said: "I hope that more people, especially ethnic minority small traders in Hà Giang Province will have more access to healthcare services and be provided with medical knowledge to both effectively fight epidemics and to develop a sustainable economy in order to contribute to the implementation of the prevention of winter-spring diseases and the COVID-19 pandemic in Hà Giang Province."
Đổi trò chơiTuyên also suggested the province's health sector carry out health communication and education activities to instruct each citizen about ways to prevent diseases such as vaccination, nutritious eating, keeping warm and personal and environment hygiene, especially monitoring, detecting and promptly handling outbreaks in the community as well as organising care and treatment for patients.
At the contest, representatives from the Women's Union at all levels in Hà Giang City and Mèo Vạc, Đồng Văn, Quản Bạ ​​and Yên Minh districts showed off their talent in disseminating knowledge and mobilising people, especially people in upland areas and ethnic minority small traders to practise disease prevention measures.
Đổi trò chơiIn order to raise awareness and call for the community to take measures to prevent and combat epidemics and to support ethnic minority traders in Hà Giang to both develop a sustainable economy and effectively fight epidemics, the health ministry launched a chain of communication activities for disease prevention and control in 2020. Media packages with contents on disease prevention and control, especially COVID-19 prevention, will be developed through various forms of infographics, TV and radio spots with the message "Living safely with COVID-19".
The ministry also donated packages of medical supplies for pandemic prevention to Hà Giang Province, including 10,000 medical masks and 900 bottles of hand sanitiser to the Hà Giang Department of Health and 60,000 medical masks and 1,200 bottles of hand sanitiser to the Hà Giang Provincial Women's Union.
Đổi trò chơiThe health ministry also helped enhancing the capacity of health resources, training and fostering knowledge about disease prevention and control at the grassroots level, building a communication network in the community, local mass media through training, talent competitions, photo exhibition, leaflets, loudspeaker systems, newspapers and social networks.
Hà Giang has many mountainous areas with difficult living conditions and a lack of clean water in the dry season. The province faces many risks of infectious diseases such as measles, meningococcal encephalitis and respiratory diseases, food poisoning, diarrhoea and disease outbreaks in the winter.
INCHAM to organise blood donation campaign
A blood donation campaign will be organised in HCM City on Sunday by the Indian Business Chamber in Việt Nam and the HCM City Red Cross Society.
Đổi trò chơiINCHAM has called on its members to participate in the donation event at 7.30am on November 29 at the Youth Cultural Centre, 4 Phạm Ngọc Thạch Street, District 1, and also persuade their colleagues, friends and family to join.
Đổi trò chơiAccording to the Red Cross, donors must be in good general health and at least 18 years old and 45kg in weight.
It will issue a donor card that can be used to get an equal amount of blood for free by the donors when they need it.
Experts say donating blood has many proven health benefits such as reducing heart attack risks, cholesterol levels and the risk of cancer.
Đổi trò chơiIt also offers donors the chance to get a free health screening and their blood tested for some major conditions.
Đổi trò chơiINCHAM is a non-profit organisation established in 1999 to represent Indian businesses and promote business activities between India and Việt Nam.
It also organises various charity and cultural exchange events in Việt Nam including the annual blood donation campaign. 
Man detained in An Giang for carrying 30 kilos of drugs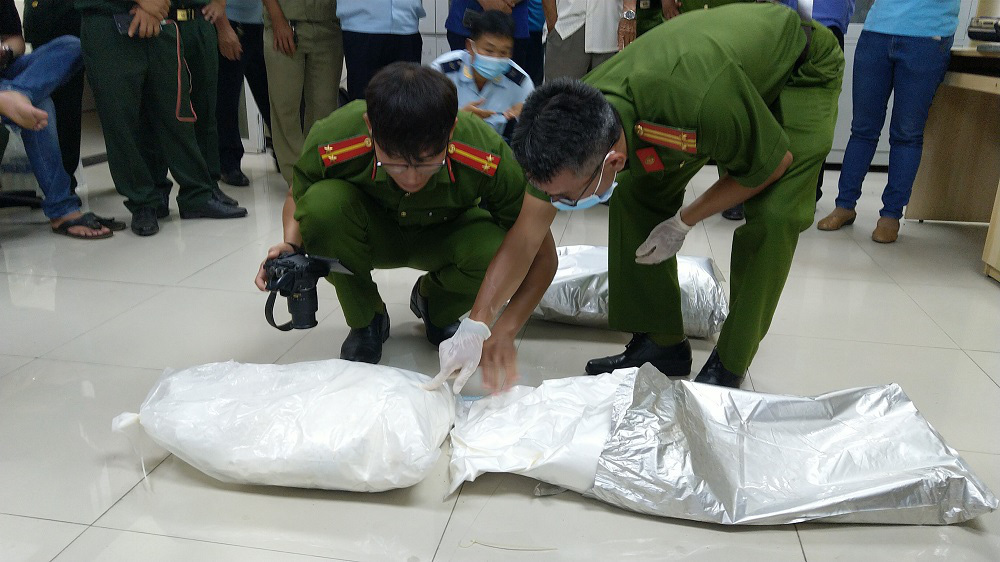 Police check the substance carried by Uoi.
Đổi trò chơiAuthorities in the southern province of An Giang have just detained a local man who was carrying 10 kilos of drugs from Cambodia to Vietnam. 
Tran Van Uoi is detained for carrying drugs in An Giang Province on November 26.
Đổi trò chơiAccording to reports from local police, Tran Van Uoi, 60, was detained at the border with Cambodia on November 26 while carrying a box containing 10.4 kilos of white powder which was then defined as ketamine in initial testing.
Searching Uoi's place in Tinh Bien Town, police found a similar box containing nearly 20 kilos of the same substance. 
Uoi told police that he was hired by a man in Cambodia to carry the boxes to Vietnam to exchange for some other goods and he did not know that the boxes contained drugs.
Police detained Uoi and seized all the drugs for further investigation.
Binh Thuan builds two coastal roads
The south central coast province of Binh Thuan has just started construction of two coastal roads to boost socio-economic development in the southern part of the province.
Đổi trò chơiVice director of Binh Thuan Provincial Department of Transport, Nguyen Huu Trung, said on November 26 that the two road projects connecting Phan Thiet - Ke Ga and Ke Ga - Tan Thien had just been started and were expected to be completed by the end of January 2024.
According to the official, the Ke Ga - Tan Thien Road will be 32.5 kilometres long and need VND 600 billion (USD26,087) to build. Meanwhile, the Phan Thiet - Ke Ga Road will span 25.6 kilometres and have a total investment of over VND 999 billion (USD43,435).
"Both projects will use capital from the government and the province's budget," Trung said. "The projects are expected to meet rising transport demand in the area. They will also help connect to coastal tourist sites in the south of Phan Thiet City and Ham Thuan Nam District."
Plan International helps flood victims resume daily lives
Non-governmental organisation Plan International Vietnam has donated VND26.3bn (USD1.1m) to 200,000 residents in the two central provinces of Quang Binh and Quang Tri which were among the hardest-hit localities by the recent flood and landslides.
Since early October, the north-central coast and central region in Vietnam have faced storm after storm along with severe flooding and landslides. Statistics from the Vietnam Disaster Management Authority show that as of October 24, 130 died and 18 remained missing. A total of 889,605 people were affected by the storms, 290,000 homes were flooded and damaged and 122,600 people were evacuated. It is estimated that up to 7 million are affected by the aftermaths and 5 million may fall into poverty.
Đổi trò chơiQuang Binh and Quang Tri are among the hardest hit provinces in Vietnam. In the past 20 years, Plan International Vietnam has helped 10,000 children in Huong Hoa, Dak Rong, Minh Hoa, Le Thuy and Quang Ninh provinces.
Đổi trò chơiIn order to help the flood victims, Plan International Vietnam has called for VND26.3bn to help 200,000 residents.
The money will be disbursed in six months and divided into three phases. Families that lost their members to the floods and landslides, families with disabled people, children or pregnant women will be given priorities.
Đổi trò chơiIn the first phase, VND4.1bn (USD176,000) has been disbursed to buy food and other necessities. VND11.5bn will be disbursed in the second phase to deal with pollution and to help children return to schools. In the last phase, VND10.7bn will be disbursed to help people resume businesses and find jobs.
As of October 26, Plan International Vietnam has provided necessities to 3,600 households with some 18,000 people in 12 communes.
The organisation worked together with local authorities and volunteers to ensure long-term livelihood for the locals but also their resilience against natural disasters.
Sharon Kane, director of Plan International Vietnam, said that they paid strong attention to how girls were affected by natural disasters and made them their top priority. They ensured that adolescent women can express their opinions throughout all processes from what they need most and how they want to be supported. Kane went on to say that the support would not be effective if they didn't consider the women and girls.
Famous Danang market still deserted due to Covid-19
Đổi trò chơiMany traders have to close their businesses at Han Market in Danang City due to the Covid-19 pandemic.
Traders at the Han Market which is a popular tourist destination in Danang City are closing their businesses due to a lack of customers amid Covid-19 pandemic. 
Most of the visitors to Han Market are tourists so when the Covid-19 outbreak occurred, traders were badly affected. The traders said the business had been bad for months. Before Covid-19, they received dozens of tourist groups a day. However, in recent months, they have had nearly no customers.
Đổi trò chơiVo Thi Anh Tuyet, a trader at Han Market, said, "There were days I was unable to sell anything. Some days I could sell something at between VND60,000 (USD2.5) to VND200,000. But I still have to pay the rental fee, electricity bill and rubbish collection fee. I hope the authorities will have plans to attract tourists to Danang again."
Đổi trò chơiBecause of poor business, no one can sell or lease their stalls anyway. Many traders decided to temporarily close their stalls until there are more tourists.
Đổi trò chơiAccording to Hoang Cung Thuong Duc, deputy head of the market management board, there are 700 business households at the market, 500 of them sell tourism products. After the Covid-19 outbreak in Danang was controlled, 85% of them reopened but had to deal with a lack of customers. The management board has proposed to the city authorities to lower tax and rental fees for the traders.
"In order to have more customers, Danang City needs more promotion programmes to attract tourists to the city," Duc said.
Ministry approves document for Covid-19 prevention in schools
The Ministry of Education and Training has just approved document for Covid-19 prevention which will be used in educational facilities nationwide and medical mission in schools in the academic year. 
The document is expected to raise awareness of managers, teachers, employees in schools and students, parents. The Ministry warned people to strictly maintain preventative measures for the sake of their health.
The document includes four parts (leaflets, pictures of Covid-19 prevention and respiratory diseases in schools, materials for managers, teachers and medical workers in schools, document for Covid-19 prevention for preschoolers and high schoolers and guidelines for health mission in schools).
The document is designed to guide Covid-19 prevention task in schools to protect students' health.
The Ministry also asked departments of education and training in cities and provinces to strictly stick to its guidelines including installation of the app " An toan Covid-19" ( Safe amid Covid-19).
Source: VNA/VNN/VNS/SGGP/VOV/NDO/Dtinews/SGT/VIR